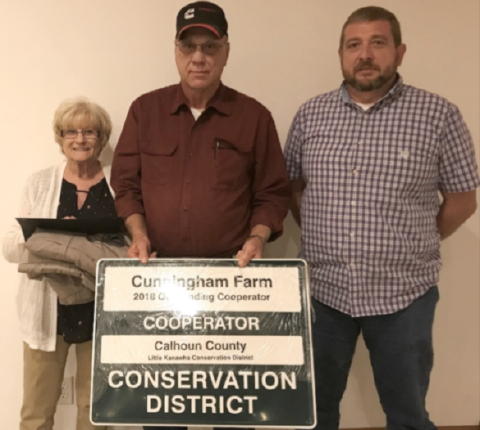 Pictured (L-R) Janet Cunningham, Dale Cunningham, and Matt Murphy
of the Natural Resources Conservation Service of West Virginia
Dale Cunningham was selected as the 2018 Calhoun County Conservation Farmer by the Little Kanawha Conservation District supervisors.
Dale and his wife Janet live on their farm located north of Grantsville on Back Fork Road just east of Rt. 16. Dale is retired from the gas company and pipeline work and keeps a very neat operation.
The farming operation consists of cattle, goats, and vegetables. His pastures are in excellent condition due to his nutrient and grazing management and the small stream flowing through the pasture is beautiful with grass growing right down to the edge of the stream.
Dale built a high tunnel a couple of years ago and grows a variety of vegetables such as tomatoes, peppers, and cucumbers which he sells at the farmers market in Grantsville.
He uses compost and mulch in the high tunnel and drip irrigation. He has received assistance from the Little Kanawha Conservation District and the USDA Natural Resource Conservation Service with several conservation practices including the high tunnel, water developments, lime, and installation of rock to control erosion on roads and areas where livestock are congregated.