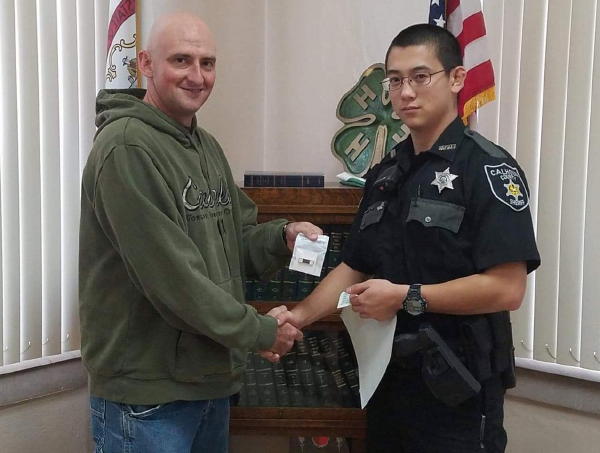 Commission president Kevin Helmick recognizes Deputy Chang
Deputy Sheriff Jason Chang received a Medal of Valor commendation certificate Friday from Sheriff Jeff Starcher. Calhoun Commission President Kevin Helmick congratulated and presented Deputy Chang with the Medal of Valor commendation bar, to be worn on his uniform.
Sheriff Starcher said that he decided to present Deputy Chang with the Medal of Valor, stemming from Chang's participation in locating, and assisting in the apprehension of Samantha Brooke Starcher, who recently escaped from the custody of WVSP Cpl. J. B. Hunt.
Deputy Chang observed Samantha Starcher crossing the Little Kanawha River in Grantsville, and despite having a limited ability to swim, Deputy Chang continued to pursue her through the river, until she was intercepted and taken into custody.
Sheriff Starcher said, "Jason's actions in this incident were without consideration of his own personal welfare or safety. The only thing he was concerned about was fulfilling his sworn duties, and as a result, his actions have brought recognition and honor to him, and to the Calhoun County Sheriff's Office."