10/21/2018 - Authorities are still looking for Joseph "Joey" Kute who is on the run from a Jackson County incident last week.

(See earlier story)

Kute and is brother Michael are facing numerous charges following an attack on a Ripley woman, when Joey Kute attacked and stabbed a man with a knife.

Michael Kute was arrested, but authorities believe Joey Kute could still be in Jackson, Roane or Calhoun.

They are asking the public to call 911 if anyone knows his whereabouts.

FORMER CALHOUN KUTE BROTHERS INVOLVED IN FAILED JACKSON BURGLARY - Joey Kute Fled, Facing Malicious Wounding Charge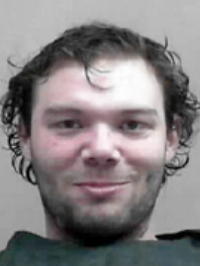 Michael Kute (left) and brother Joseph Kute (2015 photo)
10/18/2018 - Two former Calhoun men are in trouble with multiple counts linked to what police says was a burglary.
Michael Kute, in his late 30's, was arrested late Wednesday night following a police chase, according to criminal complaint filed in Jackson County Magistrate Court.
Deputies are still searching for Michael's brother, Joseph "Joey" Kute.
A woman called 911 about 11:30 p.m., saying "some men were beating up her husband."
A short time after the call, a Jackson County deputy saw a vehicle leaving the home on Meadowlark Lane where the call came from and initiated a pursuit.
The complaint said during the pursuit, the suspect, Michael Kute, hit a large pothole on Winters Road and lost control. After the vehicle ran off the road, the passenger, who was later identified as Joseph Kute, got out and ran into a wooded area.
Michael Kute, who was driving the vehicle, also tried to run on foot, but was taken into custody, the complaint said.
During an investigation, the complaint said, witnesses told deputies Michael went into a home on Meadowlark Lane with Joseph and hit a woman and told her he wanted his stuff back and to empty her pockets, at which time his brother Joseph Kute and a man inside the home began to fight.
The complaint said the man grabbed a kitchen knife to protect himself, but during the fight, Joseph took the knife and cut the man's hand before leaving the home.
Michael Kute is charged with first-degree attempted robbery, burglary, fleeing in a vehicle with reckless indifference, and conspiracy to commit a felony. He is being held in the South Central Regional Jail on $100,000 bond.
An arrest warrant has been issued for Joseph Kute for charges of first-degree attempted robbery, burglary, malicious assault, and conspiracy to commit a felony.
Anyone who sees Joseph Kute or has information about his location should call 911.