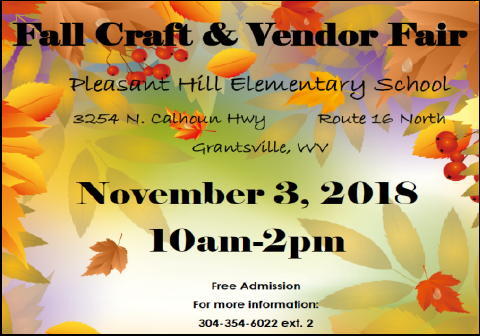 Pleasant Hill Elementary PTO is hosting the 4th annual Craft & Vendor Fair on Saturday, November 3rd, 10:00 am-2:00 pm at Pleasant Hill School.
Admission is free and the public is encouraged to attend to support our local crafters and independent vendors/consultants. There will also be student-made crafts for sell made by PHE students. Concessions will be available.
Crafters and vendors who have registered are: Vickie Allman - Color Street Nails; Jeff Basnett - wooden cutting boards, spoons, bowls; Twila Baum - Zija International; Lloyd Bone - Scentsy; Stephanie Good - Country Flair Boutique; Rebecca Greathouse - Scented Magic K & Rena's Baked Goods; Cassey Haught - custom tumblers, soap cupcakes, lotion; Jenna Jett - Primitive Furniture; BA Miller Woodworking - Christmas ornaments, signs, cutting boards, rolling pins; Lori Parsons - doTerra; Kara Pifer - Usborne Books & More; Jessica Riddel - Riddel's Blessed Apparel & Gifts; Samantha and Steven's Handmade Holiday Decorations; Smith Family Farms - alpaca products - socks, gloves, scarfs, yarn; Whispering Pines (Patsy Kisner) - seasonal décor, handmade items, antiques.
Deadline to register is October 26, 2018. You may call PHE for more information 304-354-6022.