By Bob Weaver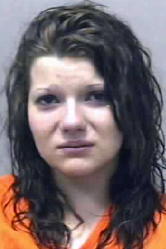 An Arnoldsburg woman, Samantha Brooke Starcher, 27 (2012 photo) was arrested early Tuesday morning after she escaped custody of the WV State Police in Grantsville.
She has been charged in Calhoun with possession with intent to deliver a controlled substance and escape while in custody.
Car theft charges will likely be filed in Gilmer County.
A criminal complaint says Starcher's vehicle was stopped by Trooper J. B. Hunt just before midnight in Grantsville, driving what was reported to be a stolen vehicle.
Starcher was taken to the Grantsville barracks where she escaped custody by crawling out a restroom window.
At least five officers spent about three hours trying to locate the woman in Grantsville, finally being discovered along the Little Kanawha River near Dominion Gas by Calhoun Deputy Chang.
Police had released a BOLO for a 2014 Dodge Avenger about 4 p.m. Monday, the vehicle was taken from a Rosedale residence. Police said Starcher came to a Grantsville residence and was later stopped by Trooper J. B. Hunt at Cha Tis Convenience Store and taken into custody.
The complaint says a search of the vehicle revealed multiple smoking devices, plastic baggies, syringes, 12 grams of marijuana and 15 grams of a substance later identified as meth.
Participating in the arrest and search, Cpl. J. B. Hunt, Sheriff Jeff Starcher, Deputy J. Chang, Deputy S. Uldrich and Grantsville Police Chief W. C. Gherke.
ORIGINAL STORY 10/9/2018 3 AM - A woman alluded police for several hours early Tuesday morning in Grantsville, reportedly escaping from Trooper J. B. Hunt when he made a traffic stop about 11:45 p.m. Monday at the ChaTis Convenience Store, Rt. 5, at the eastern edge of the town.
The woman was allegedly the driver of a stolen black Dodge Avenger, a BOLO being issued for the car before 4 p.m. Monday.
According to 911 traffic, the woman fled on foot along the Little Kanawha River area and other parts of Grantsville for the next three hours, when she was spotted by a Calhoun Deputy Sheriff at 3 a.m. Tuesday.
Officers took her into custody near the Dominion Gas Company office along the Little Kanawha River, indicating she had been in the river.
Trooper J. B. Hunt and other officers took the woman to Minnie Hamilton Health System for evaluation and treatment before being processed.
In addition to officer Hunt, participating in the search was Sheriff Jeff Starcher and two deputies and Grantsville Police Chief Craig Gherke.
No other details were available regarding the stolen car.