RIPLEY (WCHS/WVAH Leslie Rubin 10/17/2018) — A Jackson County father accused of shaking and choking his infant daughter because she wouldn't stop crying tried to get a magistrate to lower his bond and wanted an Eyewitness News camera kept out of a public courtroom for his preliminary hearing.

Kevin Postalwait, chief public defender for Jackson County, made the requests for his client, Jeffrey Hoskins, at a hearing on Tuesday.

Magistrate Jacqueline Casto refused both requests but did ask the photographer to not use audio associated with the hearing.

Hoskins, 24, of Ripley was arrested Oct. 7 after his 6-month-old daughter was found unconscious and not breathing by the child's mother.

Hoskins is charged with child abuse by parent resulting in serious injury.

"Children can't speak for themselves and it's our job to speak for them in this case," Jackson County Sheriff Tony Boggs said after the hearing. "I think that's exactly what was done, as well as can be done for a 6-month-old baby. We just can't fathom how any human can do this to a child, but it happens and it happens way too frequently. I just don't understand what is wrong with these folks."

: Jackson County deputies, working in conjunction with the West Virginia State Police, said Hoskins admitted to shaking the baby "hard" and then holding her by the neck, choking her because "the child was crying and wouldn't stop."

Investigators said Hoskins initially tried to lie and said the infant choked with he was feeding her, leading to her being unconscious.

Deputies said the infant is still on a ventilator at a Charleston hospital and has not regained consciousness. The child suffered a stroke in the back of her brain and hemorrhages in her retinas.

Casto found probable cause and bound the case over to a grand jury. She did not lower his $250,000 cash only bond. He faces two to 10 years in prison, if convicted.

Previously, Hoskins has faced domestic violence charges.

ARNOLDSBURG MAN CHARGED WITH CHILD ABUSE CAUSING INJURY - Hoskins Held On $250,000 Cash Bond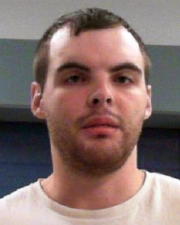 10/11/2018 - A former Arnoldsburg man has been arrested by Jackson County authorities.
Jeffery Todd Hoskins, 25, has been charged with child abuse by parent with serious bodily injury.
He is being held in South Central Regional Jail with a $250,000 cash only bond.
Court records said Hoskins, who was living in Jackson County, is charged after he admitted to shaking and choking his baby, the child was crying, leaving the infant with hemorrhages on both sides of the brain.
The complaint said the child's mother called 911 Saturday to report her child was not breathing and was unconscious. After being taken to Jackson General Hospital, the baby was transported to Charleston Area Medical Center Women and Children's Hospital.
Court records said the father, Hoskins, first told a trooper he was feeding the baby and she started choking, which led to the child losing consciousness.
Later under more questioning, Hoskins admitted the child was crying and wouldn't stop, so he shook her hard and then choked her, the complaint said.
The baby is still hospitalized in Charleston.