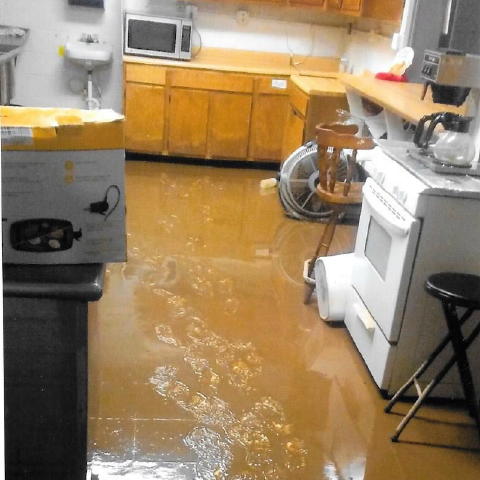 Food prep and kitchen area received major flood water damage
The Upper West Fork Park buildings and grounds received major damage during the September 28 flood that affected much of the Stinson-Chloe area.
The park was inundated with flood water so horrific that it broke the front door to the community building and it was standing wide open, with about one foot of water flooding the building.
The water carried picnic tables and a dumpster away, the dumpster hasn't been found yet. The surface of the park road and parking lot was washed away, and water was in the Upper West Fork Volunteer Fire Department.
Community gathering room covered with muddy flood water
An exercise building had upwards of 22" of water.
There was damage to cabinets in the community building, floor and seating, although officials say it appears that the two stoves, two refrigerators and two hot water tanks are salvageable.
"We need donations to replace gravel that was washed away, help to replace the outside stage area where we hold blue grass festivals and manpower to clean up the camper-rental area, the pavilion, ball cage and playground, as well as the exercise building and outside restrooms," said Anita West, secretary of a newly organized group of volunteers to manage the park.
West said the cleanup inside the main building is nearing completion. The floor still needs to be painted.
The group is asking the for financial and volunteer assistance to keep the park going.
"The park is just going through a re-organization and funds are depleting with this flood," said West.
You may make donations directly to:
Christine Keen
Upper West Fork Park
5199 Oka Road
Chloe, WV 25235
You can contact any of the board members: Christine Keen, Roy Keen, Ray Radabaugh, Juanita Nicholas, Carroll Arnold, Cora Wagoner, Jim Shields, Arlena Shields, and Anita West.