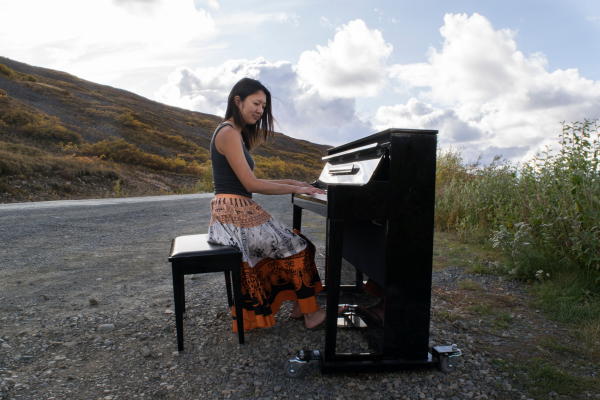 NYC CONCERT PIANIST TOURS WEST VIRGINIA WITH A PIANO IN A VAN
Gather Hear Tour delivers classical music, inspires deep listening
Brooklyn, NY: New York-based international concert pianist Miki Sawada tours West Virginia with a piano in a van from October 27 - November 8 as part of Gather Hear Tour. Sawada will perform for free in 12 beloved local venues.
She will perform twice in Calhoun County on November 6th at Heartwood in the Hills at 6:30 p.m. Public is welcome to attend the free concert.
Sawada will perform for Calhoun Middle-High School students on November 7 at noon.
The tour was launched in 2017 with Gather Hear Alaska, in which Sawada performed 25 concerts in cafes, bars, lodges, galleries, schools, and parks. The tour explores the idea of the piano as a gathering place - a rare space that has the power to make people pause their lives and listen. The goal is to perform free concerts in all 50 states in a quest to understand, document, and contribute to American life coast-to-coast through an artistic communal experience.
In Gather Hear West Virginia, Sawada tours a new work titled "A Kind of Mirror" that combines classical music with participatory theater by the audience. The music selection includes works from the standard repertoire and new music written by WV-native composer Brendon Randall-Myers for this tour; theater direction is by NYC actor and director Daniel Pettrow.
Sawada says of 'A Kind of Mirror,' "The audience participation prompts are light-hearted and simple but also very strange given this setting of a piano concert. We wanted to take the stuffiness out of classical concerts and simultaneously heighten the audience's sense of awareness. The show directly reflects the mission of the Gather Hear Tour project, which is to invite people from any background to have a meaningful classical concert experience in a shared communal space."
Gather Hear Tour is a project fiscally sponsored in part by Fractured Atlas. The creation of "A Kind of Mirror" is partially supported by a grant from New Music USA. Use of the Yamaha AvantGrand piano is provided by Heifetz International Music Institute.
Sawada is a international concert pianist based in Brooklyn, New York, who has performed in North America, Europe, and Asia at venues and occasions such as: Weill Hall at Carnegie Hall, the Metropolitan Museum of Art, American Museum of Natural History, Helsinki Music Centre, Oneppo Chamber Music Series at Yale, Toronto Summer Music Festival, Music on Main (Vancouver), Chicago Symphony Center's Macy's Day of Music, the Banff Centre, and radio stations WQXR (NYC), WFMT (Chicago), and KUAC (Fairbanks).
In the summers, she serves as a faculty member of Heifetz Institute, Point CounterPoint Camp, and Berkshire High Peaks Festival. Sawada holds degrees from Yale School of Music, Eastman School of Music, and Northwestern University. To learn more visit www.mikisawada.com