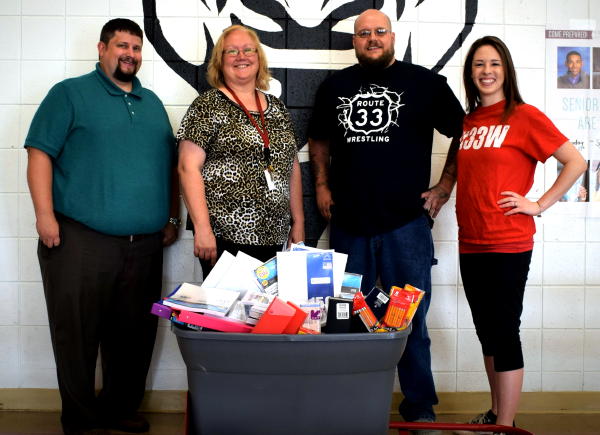 School suuply donations are delivered to CM-HS by Route 33 staff
By Jessi Cosgrove
33 Wrestling, Director
This week, schools in Calhoun and Roane counties received a surprise - Boxes of school supplies!.
Spencer pro wrestling company, Route 33 Wrestling, held their second show, "School Yard Throwdown," on August 11th, which doubled as a school supply drive, resulting in the donation of over 600 supplies.
Former Route 33 Wrestling Champion Mongo and director and founder Jessi Cosgrove delivered the notebooks, pencils, pens, binders, and more to Calhoun County Middle/High School, Spencer Middle School, and Roane County High School on Monday, August 20.
Route 33 Wrestling's mission is to utilize professional wrestling as a tool for positive change in their community. Their debut show in March, "Spring Breakdown," raised funds for the Calhoun County National History Day Team. Future events may include canned food drives, toy drives, fundraisers, and more.