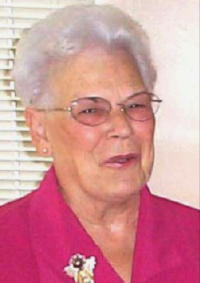 Longtime Arnoldsburg Civic Leader, Democrat Executive Chairperson, and all-around good neighbor, Margie Evans has died at age 94.

Margie was among the last of a generation of doers, showing up in the Arnoldsburg community to do her part, from the Molasses Festival, the local school or her church.

She was formerly employed at Kellwood Company with 25 years of service, one of the original founding members of the Arnoldsburg Community Center, a 65 year member of the Order of the Eastern Star where she was Past Matron of the Spencer and Grantsville chapters, a former member of the Daughters of the American Revolution, and a member of Alberts Chapel on Sand Ridge.

She was preceded in death by her husband, Paul S. Evans.

Services will be held at noon on Monday, August 20, 2018 at the Taylor-Vandale Funeral Home in Spencer with Pastor David Weaver officiating. Burial will follow in the Spencer Memorial Cemetery. Visiting is one hour prior to the service at the funeral home.