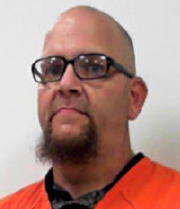 Thursday, a Calhoun Petit Jury convicted Jeremy Saunders. 44, of Arnoldsburg, on multiple counts of sexual abuse of a minor family member, according to prosecutor Shannon Johnson.

The female, who was a minor at the time of the incident, testified against Saunders.

Saunders was found guilty of three counts of sexual abuse by a parent, guardian, or custodian; three counts of incest; and three counts of sexual assault in the third degree, all felonies.

Prosecutor Johnson said Saunders faces a possible sentence of 48 to 120 years in the state penitentiary and fines of $3,000 to $60,000.

The long delayed three day trial was before Judge Richard Tatterson, Saunders was charged in 2013.

"It has taken 5 years from the time Mr. Saunders was charged with these crimes to reach the point of a jury verdict. I want to thank the survivor, the officer, the CPS workers, the medical professionals, and other witnesses for their perseverance and patience during the process. At last, a jury has brought justice and closure to the survivor. I thank them for their service in this case," said prosecutor Johnson.

Johnson said, "Saunders's bond was revoked following the reading of the verdict and he is incarcerated while he awaits sentencing. A hearing on post trial motions will be held Sept 13th. Sentencing will be scheduled at that hearing."