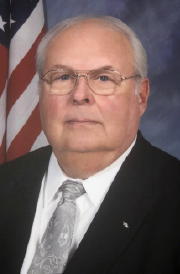 Longtime Calhoun mortician John S. Stump, 77, of Grantsville has died following an extended illness.

Stump was among five generations that operated the Stump Funeral Homes in Grantsville and Arnoldsburg, the funeral home established in 1897, the longest continuous business in the county.

Stump was active in the funeral business for about 60 years, known for his knowledge and compassion for Calhoun families.

He was a Calhoun High School Class of 1959 graduate. He majored in business at Marshall University. While there, he was a two-year member of the Army ROTC program. He was a 1962 honor graduate of Cincinnati College of Mortuary Science.

Following college, he served in the US Army. He served in the Army Chaplain Corps at Fort Knox and later, in the Army Reserve as an MP. He was a member of Linden Lodge #83. He was a 32nd Degree Scottish Rite Mason and a member of Nemesis Shrine.

He began working at Stump Funeral Home as a 9 year old boy and answering ambulance calls at the age of 16. He served over 60 years in the funeral profession as a fourth generation funeral director and embalmer, following his father, his grandfather, Ira N. Stump and his great-grandmother, Martha E. Bennett Stump, who founded the business.

The funeral business evolved from Martha's furniture store, where she provided caskets, in the late 1890's. He served several years on the West Virginia Board of Funeral Service Examiners.

He was a member of First Baptist Church of Grantsville where he served as a former Deacon and Lay Speaker.

A funeral service will be held at 5:00 p.m. on Sunday, August 5, 2018 at Stump Funeral Home & Cremation, Inc., Arnoldsburg, WV with Rev. Rick Metheney, Rev. Carroll McCauley, and Elder Gene Miller officiating.

Visitation will be from 2:00-5:00 p.m.

Interment will be in Bethlehem Cemetery, Grantsville, which is situated on what once was the home place of his great-grandfather, S. T. Stump.