9/28/2018 - Andrew "AJ" King, 31, has been indicted by a Roane County Grand Jury for the murder of Danny Marks, 56, of Walton on August 1.

King shot Marks in the head while police were looking for Marks related to a stolen ATV.

King was also indicted on two counts of attempted murder and wanton endangerment, in addition to the possession of a firearm by a prohibited person.

King also shot Terri Paxton, who recovered from the assault.

The Grand Jury also indicted Nathan Gregory Selmon, 35, of Arnoldsburg and Joshua Thomas Slider, 33, of Klipstine Road, Big Springs, for grand larceny, petit larceny, destruction of property, and conspiracy.

KING FACING MURDER AND MULTIPLE CHARGES IN DEATH OF DANNY MARKS - Former Calhoun Man Held In South Central Regional Jail, Second Shooting Victim Expected To Recover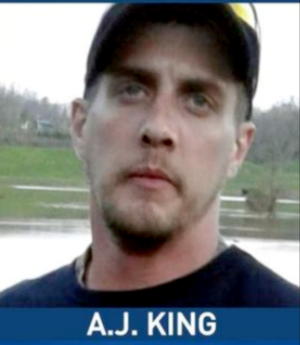 Photo courtesy of WCHS Channel 8 Eyewitness News
UPDATE 7/29/2018 - Roane Court documents say officers were searching for suspect Andrew "AJ" King in the Walton area of Roane County July 25th and found King on Charleston Road, say he drove off in a stolen Suzuki ATV, wrecked it and then ran on foot.
Early the next morning, documents say a deputy was called that King was on the porch of a home on Charleston Road.
While Roane County Deputies were heading to the scene, 911 told them shots had been fired at the home.
When they arrived on scene, documents say they found Walton resident Danny Marks lying the front yard with a gunshot wound to his head.
The say Marks was breathing and had a pulse, but was unconscious and he was taken to CAMC General as a result of the gunshot wound, where he was pronounced dead.
Documents say officers were attending to Marks when they heard more gunfire from the home next door.
Deputies and Troopers raced next door, where they saw King running south on Route 119 holding a pistol and firing at law enforcement.
Court documents say the homeowners had pulled into their driveway and told officers they saw King run out of a drain pipe and shoot at their truck multiple times, hitting one of the occupants in the leg and the arm.
That female victim is expected to recover.
Andrew King is now in the South Central Regional Jail, facing charges of murder, attempted murder and others.
UPDATE 7/28/2018 - Andrew "AJ" King, 31, who is accused of shooting and killing Danny Marks of Walton, Roane County, formerly of Letherbark, Calhoun County, has been taken to the South Central Regional Jail Saturday.
Troopers said King was hospitalized for injuries sustained in an ATV accident that happened prior to the shooting.
King is charged with murder, two counts of attempted murder, two counts of malicious wounding, grand larceny, transferring/receiving stolen property, prohibited person with a firearm, conspiracy to commit a felony and driving on a suspended license.
King is currently being held without bond.
UPDATE 7/27/2018 - Funeral services for Roane County businessman Danny Marks are being completed at the John H. Taylor Funeral Home in Spencer (See Obits).
Police have yet to release a statement regarding the events that led up to Marks murder and the shooting of another Walton woman, which reportedly happened at separate locations.
UPDATE 7/26/2018 - Roane County businessman and civic leader Danny Marks, former owner of Marks Towing, has died of gunshot wounds inflicted last night by 31-year-old Andrew "AJ" King.
A second victim in the shooting, Terry Paxton of Walton, is expected to recover.
Roane County deputies say he was accused of threatening to kill his family, then fleeing and shooting two bystanders, Marks and Paxton.
An extensive search in the greater Walton area ended when they found King hiding in the weeds not far from where the shooting happened.
King, who is connected to the Calhoun Letherbark area, has a criminal history.
He was captured and charged by Roane authorities.
7/26/2018 - West Virginia State Police have confirmed a Roane County shooting suspect A.J. King, 31, is in custody.
Police searched for King, described as a white male, from about 11 p.m. Wednesday to about 8 a.m. Thursday.
Two people were shot in different areas Wednesday night along U.S. 119 between Clendenin and Walton. Those victims are believed to be in critical condition.
One male was transported via medical helicopter after being shot, police said.
King had been making threats to his grandfather and law enforcement late Wednesday night. Law enforcement started chasing King when he took off on an ATV and wrecked it next door.
Officials say that was when King allegedly shot two people, a man and a woman, around 11:30 p.m. Wednesday, he took off.
U.S. 119 was closed between the McKown's Creek exit and Ambler's Ridge, but has been reopened.
The Spencer Police Department, Roane County Sheriff's Department and West Virginia State Police were searching for King.
King was reported to be a former resident of Lethertbark, Calhoun County.