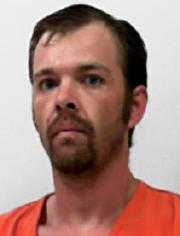 Calhoun authorities arrested Johnathan David McIntyre, 34, and charged him with grand larceny, nighttime burglary, fleeing on foot, possession of a controlled substance and driving revoked DUI-II.

A criminal complaint says McIntyte stole a 2012 Chevy Impala from Spring Run, Patricia Thompson was the complainant.

McIntyre is in Central Regional Jail.

The Calhoun Sheriffs Department arrested Matthew Ryan Hill, 27, and charged him with the violation of a domestic violence protective order.

A criminal complaint issued by Deputy Chang indicated when officers responded to Calhoun Homes, Megan Hartz arrived at the door, while Sheriff Jeff Starcher went to the back door of the apartment and intercepted Hill from leaving.

Further investigation discovered that Hill is a respondent to an active Domestic Violence Protective Order and was in violation of that order, indicating that both Hill and his significant other Hartz knew about the violation.

Hill is in Central Regional Jail.