8/16/2018 - A Celebration of Life Picnic for friends, neighbors, and family of Francis E. Cain will be Saturday, August 18th, at Brooksville Baptist Church from 4:00 to 6:00 pm.

Food will be provided. Come and celebrate the life of one of the "Greatest Generation" and his homecoming into Heaven.

GENTLEMAN FRANCIS CAIN DIES AT 93 - His Cup Always "Half Full," Farmer, Oil and Gas Producer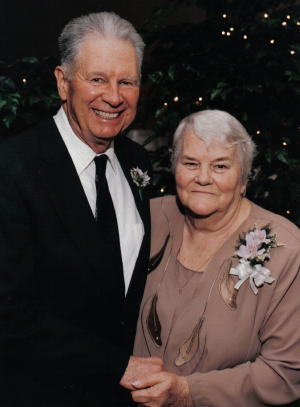 Francis Cain and his wife of 67 years Donna
By Bob Weaver
Francis Cain, 93, of Big Bend, has died.
He was a well-known independent oil and gas contractor, farmer and civic minded citizen, known for his mild-mannered kindness and optimism, his glass always "half full."
There will be no funeral service, but a Celebration of Life is set for the picnic shelter at Brooksville Missionary Baptist Church, where he was a long-time member.
He married Donna Warrenfeltz of New Creek, WV in 1949, who survives.
The Cain's have five children, Juanita Miller, David Cain, Susan Hall, Laura Stump and the late Dean Cain.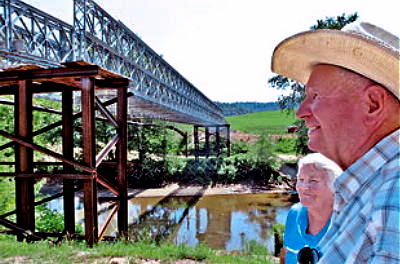 Francis and Donna look upon steel bridge they
built across Little Kanawha to their home in 2006
His father bought the property in 1927 at Cains Riffle, the family originally living in a log house.
Francis was born January 5, 1925, son of the late Everett and Eva Cain of Big Bend, WV. He was a graduate of Calhoun County High School with the class of 1941, and faithfully attended alumni gatherings.
He served in the US Army from 1943-1946 during World War II. He received his Bachelor of Science in Agriculture degree from WVU in 1950 and a Master in Agronomy in 1951. He then worked for the Soil Conservation Commission from 1951-1955. He started Cain Oil and Gas Company in 1955.
Francis and Donna were Parade Marshals for the 2006 44th Wood Festival.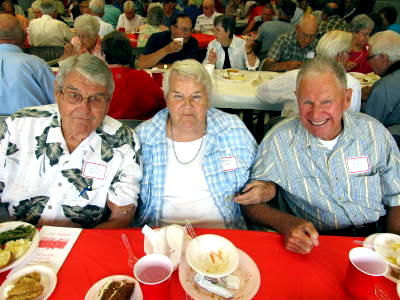 Francis and Donna visit with old friend Rector Brown
at Calhoun High Alumni Reunion, which he always attended
He quietly made civic contributions to relocate the Brooksville Missionary Baptist Church and establish the new Family Life Center and pavilion.
He likely played a major role in the establishment of the county's first Christian School at Big Bend.
During much of the 20th Century he maintained an active oil and gas operation, and was a large Calhoun landowner.
He clung to his Calhoun roots with deep respect for its citizens, with many acts of kindness.
See complete obituary Francis E. Cain