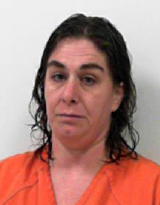 A West Virginia caretaker has been charged after court records claim she struck her patient with shaving cream cans and forced large dogs to attack him.

Lizzy Mae Ferrell, 36, of Grantsville, is charged with abuse or neglect of incapacitated adult, according to a criminal complaint filed in Calhoun County Magistrate Court.

West Virginia State Police responded July 22 to a home in the 1500 block of South Calhoun Highway (Phillips Run) near Grantsville regarding a dog bite. The patient had injuries to the legs, arms and head.

The patient, in his 30s, an incapacitated adult in the care of the state, told troopers Ferrell, his caretaker, had struck him in the head repeatedly with several objects, including shaving cream cans and wasp spray, the complaint said. The patient also told troopers Ferrell had picked up dog feces from the floor and wiped it on his face before having several large dogs attack him.

The patient said Ferrell had large dogs bite and scratch the man while he laid on the floor and begged her to stop, the complaint said.

The patient was transported to Roane County General Hospital.

Ferrell is currently being held in Central Regional Jail on a $25,000 property/surety bond.