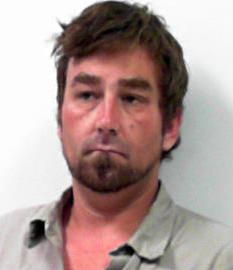 Calhoun authorities arrested Vincent Seth Ruggieri, 33, charging him with disorderly conduct Tuesday, after attempting to bring the man under control.

A criminal complaint says that Ruggieri was believed to be a person of interest related to a fire set at the Mount Zion Drive-in Tuesday night.

Cpl. J. B. Hunt, Grantsville Police Chief Craig Gherke, Sheriff Jeff Starcher and Deputy J. Chang attempted to take Ruggieri into custody while he was walking along WV Rt. 16 near Millers Quick Shop.

The complaint says the man was yelling obscenities and was threatening.

Sheriff Starcher and Deputy Chang first located Ruggieri walking out of Country Lanes, the man indicated he "wasn't doing anything wrong" and kept walking, after being advised about the investigation.

Cpl. J. B. Hunt and Craig Gherke arrived on scene, and the complaint says that Ruggieri became even more uncooperative and continued to fail to comply with lawful commands.

The complaint says that Sheriff Starcher displayed his taser, at which time Ruggieri said, "Shoot me! Shoot me!"

Cpl. J. B. Hunt and Deputy Chang then ordered Ruggieri to place his hands on the hood of a cruiser for an officer safety pat down, the man refused.

The complaint says Cpl. J. B. Hunt then placed Ruggieri in a wrist lock and pushed his right shoulder into the right fender of a cruiser at which time he displayed aggressive behavior and Sheriff Starcher deployed two tasers.

He was then taken into custody, charged and taken to Central Regional Jail. His bond is $2,000.

Late Tuesday night, Sheriff Starcher and Deputy Chang responded to a security alarm call off Norman Ridge at Wilson Lane to discover four occupants at the dwelling.

It was learned that the occupants had permission to be in the dwelling.