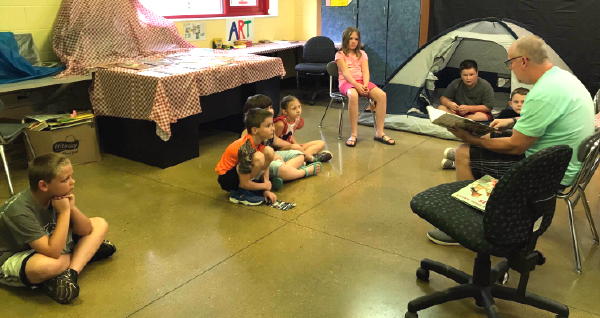 Bob Bailey reading to a Summer Boost Express class
(L-R) Travis Thomas, Tyler Butler, Bethany White,
Vision Coon, Izzy Cronin, Trevor Butler, Brody Richards
By Makayla Smith
Community Coordinator
The first week of Summer Boost Express was a success! Each mentor kicked off the week with a welcome activity, recreation, writing, one on one reading, art, and read aloud. In art, the students drew themselves for "Myself" week. The take home book was "Chrysanthemum" and "Bear and Duck." For welcome activities, each student had the opportunity to tell the class a little about themselves. The older groups named personality traits that described themselves and their friends.
Save the Children programs began in the afternoon. The students go through four rotations: reading (girp), nutrition, math, and STEM.
For nutrition, Nancy Bremar and Tina Persinger brought fresh produce for the children to take home and provided them a recipe for homemade fresh salsa.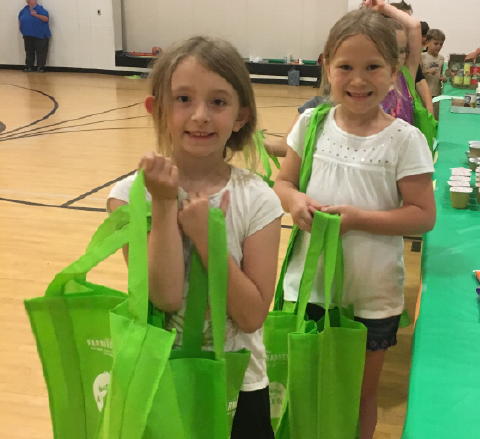 Olivia Sarratori and Allison Harris hold bags full of fresh
produce from local farmers markets. (Save the Children)
In STEM, the kids played with robots. In math and reading, they took pre-tests to see where they stand; which allows mentors to see if they improve over the summer, as well.
If anyone is interested in volunteering please contact Arnoldsburg Elementary or the Community Coordinator, Makayla Smith at smith.mb.2017@wvwc.edu