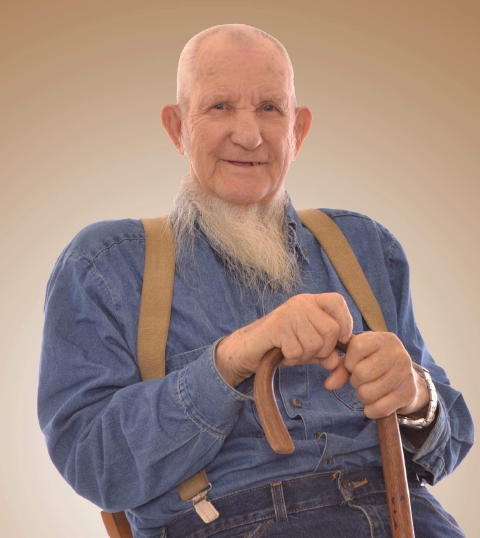 By Bob Weaver March 2018
89-year-old Denver Nicholas of Bear Run was a Calhoun mountain man, holding tight to the old ways. He has died.
Bear Run off Nicut Road has changed little in the past 100 years, a good place for a man like Denver.
His parents were early comers, Simon and Emma Nicholas. He was delivered by his grandmother Eda Jane Cottrell and taught to read the Bible by his mother.
Family members said he learned arithmetic from working in the timber, but stopped his formal education in the 4th grade to help his dad build a house, work on the farm, his father being ill.
He loved singing "Amazing Grace," with a true passion for God.
He spent 18 years working in the oilfield for Gerald Jones and the Stonestreet Family and loved working the oil rigs and telling stories from that time.
Denver loved farming and could work a pair of horses like no one else. He was a role model to many children who called him dad or grandpa.
Rest well Denver on that Bear Run hillside.
Funeral services will be at 1 p.m. Thursday (6-28) at the Ebenezer Baptist on Nicut, Orma, with burial in family cemetery.
Friends call call Wednesday evening at the John H. Taylor Funeral Home in Spencer from 6-8 p.m.
Read full obituary Denver Nicholas