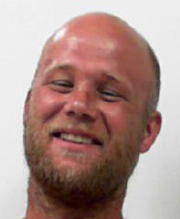 A man from Braxton County is accused of pouring gas around a camper with a pregnant woman inside and lighting it on fire, according to a criminal complaint.

Deputies charged Jessie Lee Boling, 33, of Sutton, with first-degree arson, domestic battery, domestic assault, and destruction of property.

The incident occurred early morning on June 21 in the Sugar Creek area of Braxton County along Route 4.

Court documents state that Boling poured gas around the camper, which was occupied by the victim and then set it on fire.

The victim, who is pregnant with Boling's child, according to family members, was able to escape without injury.

Three small dogs also escaped the camper without injury, the family said.

The complaint also states that Boling pepper sprayed three other victims near that camper- two men and a woman, and shot one of the three in the chest with an air rifle. Each of the four victims in the case are related, according to family members.

Before leaving that scene, those court documents state that Boling slashed all of the tires on the first victims vehicle.