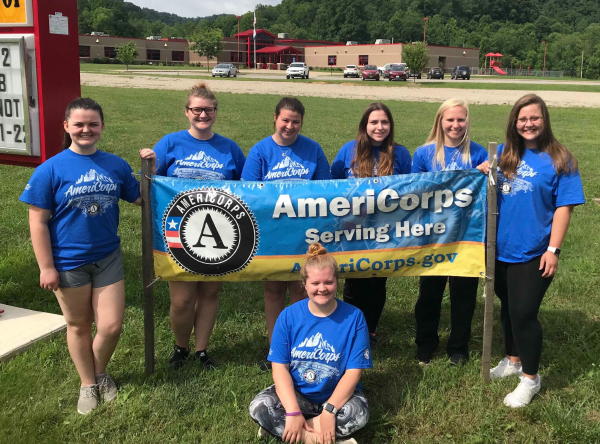 Energy Express Mentors - Seated, Autumn Jones; Standing (L-R) Adrianne Shimer, Brandi Whited, Taylor Nicholas, Caroline McCumbers, Makayla Smith, and Miranda Farmer
By Makayla Smith
The Energy Express mentors spent much of the previous week preparing their rooms for the kick off of "Summer Boost Express" on Monday, June 18 at Arnoldsburg Elementary.
There are four returning mentors and three new mentors ready to have a fun filled summer doing art, writing, recreation, and one-on-one reading with their children. They have used their imaginations to create camping, space, circus, under the sea, and Hawaii themed classrooms for the kids to enjoy.
If your child is looking for something fun to do this summer, there is still room available for them to join. Also, any older kids or adults may contact Makayla Smith if they are interested in volunteering.
Following energy express, the children are encouraged to stay until 3:30 for the "Save the Children Program." This program focuses on giving children a "healthy start in life, the opportunity to learn, and protection from harm." Save the Children incorporates math, science, reading, and recreation to make sure the kids stay on top of their game over the summer months.
Additionally, every Thursday afternoon the children will have the opportunity to take part in a "Farmers Market" experience to provide them knowledge on the importance of nutrition.