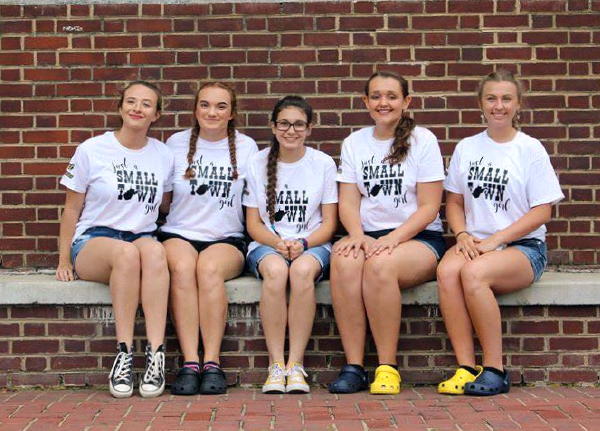 (L-R) Destiny Wager, Destiney Murphy, Jaelyn
Jett, Jenna Milliron, and Megan Harding
By Dan Cosgrove
Five Calhoun students competed in the National History Day Competition at the University of Maryland: Middle School student Jaelyn Jett and High School student's Megan Harding, Jenna Milliron, Destiney Murphy and Destiny Wager.
The contest represents the national finals for affiliate level contests held in all fifty states, the District of Columbia, American Samoa, Guam, Puerto Rico, Central America, China, Korea, and South Asia. Each year, more than 600,000 students around the world create historical research projects in one of five categories: documentaries, exhibits, papers, performances, or websites.
Projects are prepared based upon an annual theme; the 2018 theme was "Conflict and Compromise in History." After presenting these projects at the local, regional, and affiliate level, the top entries are invited to the National History Day national contest representing less than 1% of the projects that started the process.
The judging is broken down by age, category, and group or individual. All categories have a junior (middle school) and senior (high school) division. Each category, aside from papers, also has a group and an individual category. First, second, and third place awards are presented to the top entries in each category and division.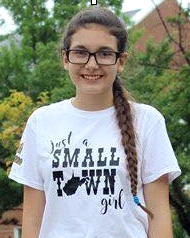 In addition to category awards, there are outstanding affiliate entry awards, representing the best project in all categories from the specific affiliate. Jaeyln Jett (left) was identified as having the best project of any middle school student, in any category, from West Virginia.
Destiney Murphy and Destiny Wager ranked higher in their preliminary round than any previous students in Calhoun history.
Special thanks to the parents who accompanied the group, and a very special thank you to our chaperone, fellow CMHS teacher Kelsey Jett, who ensured students were safe and had a fun experience.
The students would like to thank all the sponsors who made the trip possible, especially the Lions Club, and a generous anonymous donor.