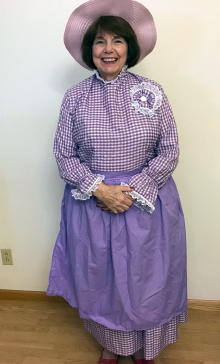 SEE WV FOLK FESTIVAL SITE

Jean Simers will represent Calhoun County as this year's Folk Festival Belle." The Folk Festival will be held in Glenville June 22-24. She is sponsored by the Rush Run CEO club.

Jean and her husband Burl will be married for 52 years in July and are parents of Sandra Simers Bugby and Cindy Simers, They have two grand children - David Bugby and Bethany White.

Jean retired from the Calhoun County School System in 2004, completing 37 years of service. After retirement she was the coordinator for the 21st Century Heads Up Grant for the county and later became the Family Resource Network Coordinator for Calhoun County.

In January, 2013 Jean was appointed as County clerk, a position she holds today.

Jean is a member of the Ladies Auxiliary of the VFW Post 5959, Chairman of the Calhoun County Christmas Connection, Delta Kappa Gamma Fraternity, Vice President of the Minnie Hamilton Health System Board, Calhoun County High School Alumni Association, Little Kanawha subsidiary of the Parkersburg Area Community Foundation, Secretary of the Little Kanawha Transit Authority and Queen Bee of the Sunny Cal Gals, local chapter of the Red Hat Society.

Jean and Burl attend Enon Baptist Church. "I am very proud and pleased to represent Calhoun County as this year's Folk Festival Belle," she said.