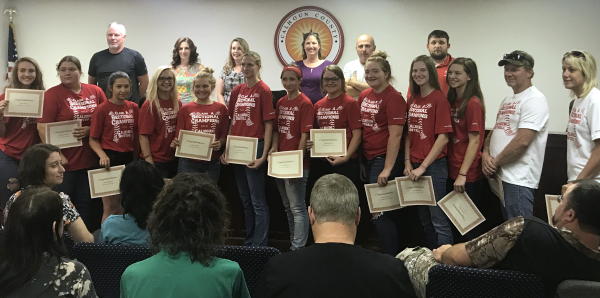 Submitted by Jeannie L. Bennett
Chief Operational Officer for Student Services
Calhoun County Board of Education and Superintendent Kelli Whytsell recognized the Calhoun County Lady Red Devil Softball team at the May board meeting. Coach Suzanne Allen and Assistant Coach Argil Jones led the girls to win the Sectional Championship this year. This is the first time Calhoun has earned this title in 11 years.
See below some additional stats
10-4 record this year - 2 wins over Williamstown including a win in sectionals (Williamstown was seeded #2 in the sectional); Swept Webster, First win over St. Marys in 10 years; Win over Tyler Consolidated in the LKC placement game; Win over Wirt in sectionals; Win over Wahama in sectionals; Sectional Champions.
Maddison Dennis was second team All-Conference. Some team members are expected to earn All-State honors. To be announced.
Coach Suzanne Allen said, "I'm very proud of this group of student athletes. We are a very young team and have put a lot of work into developing a stronger team. I'm already looking forward to next season to see what these ladies can do."