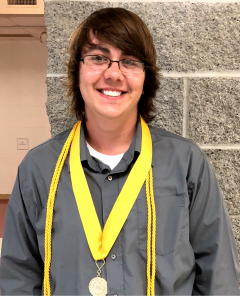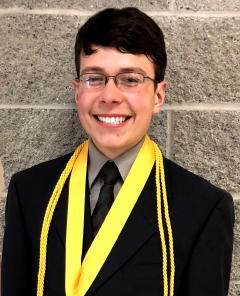 Roby Farmer (L) and Robert Twist IV
Roby Farmer has been named Valedictorian for the 2018 Calhoun County Middle-High graduating class.
Roby is the son of Roby and Tracie Farmer of Orma, WV. His high school activities include student council president freshman and junior year, math field day participant and student council representative.
His high school honors include National Honor Society, National Spanish Honor Society and math honorary Mu Alpha Theta.
Roby's future plans include attending Marshall University in the fall where he will major in Environmental Science.
Robert Twist IV is named Salutatorian of the class.
Robert is the son of Michelle and Ronzel Wagoner of Big Springs, WV. His High school activities include playing the piano as well as coding and game development in JavaScript and HTML.
His high school honors include Math Field Day team each year, Mu Alpha Theta math honorary, National Honor Society and recipient of the Governor's Workforce credential.
Robert's future plans include going to Vassar College on a $72,000 plus yearly scholarship which will exceed $300,000 prior to his fourth year in undergraduate.
He plans to major in computer science and hopes to become a software developer for a large company such as Google, Apple or Microsoft.
Graduation will be held at the Calhoun County Middle-High School, Gym, Friday, May 18th beginning at 7 p.m.