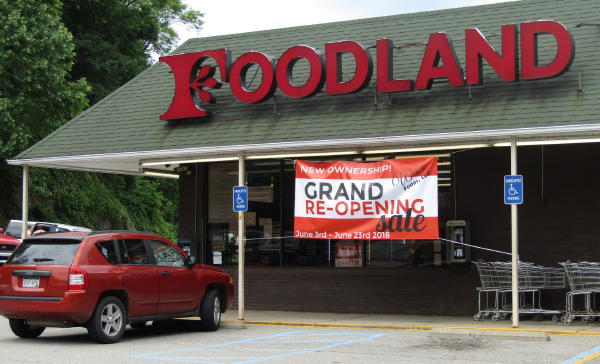 Waco Foods is celebrating the grand opening of their three food stores during the month of June, including the Grantsville Foodland, which has been amply stocked and remodeled.
4/27/2018 - The Craigsville, Glenville, and Grantsville Foodland grocery stores have been acquired by Waco Foods, LLC., a company locally owned and operated by the Morris family of Glenville. The stores will remain under the Foodland banner.
I.L. (Ike) Morris has dedicated his life to improving his hometown of Glenville and surrounding communities. He is known throughout the state of West Virginia and is now proud to become part of the Foodland family, with other members of the LLC being his son, Doug and daughter, Shelly Morris DeMarino, all residents of Glenville.
Ike is best known for his successful Glenville-based oil and gas company, Waco Oil & Gas Co., Inc. created in 1975. The Morris family are community-minded philanthropists who are loyal supporters of Glenville State College, numerous charitable and youth organizations and exhibit a love for West Virginia.
"For over 60 years, Foodland has worked to keep our community strong and vibrant," said Ike Morris, managing partner of Waco Foods. "We are excited to become part of the Foodland family and work with our dedicated employees to serve our local neighborhood by providing our valued customers with service, convenience, and quality products at competitive prices."
The Grantsville store is undergoing significant renovations with new fixtures and flooring, with the shelves more than adequately stocked.
The Waco Foods Foodland stores remain committed to working with local vendors and merchants and the new ownership have recently improved the weekly circulars and in-store offers, and are committed to providing a welcoming environment for customers.
Foodland is a group of independently owned and operated grocery stores where the owners and staff are members of the local community, focused on the needs of customers close to home. For more information about Foodland, visit www.foodlandstores.com