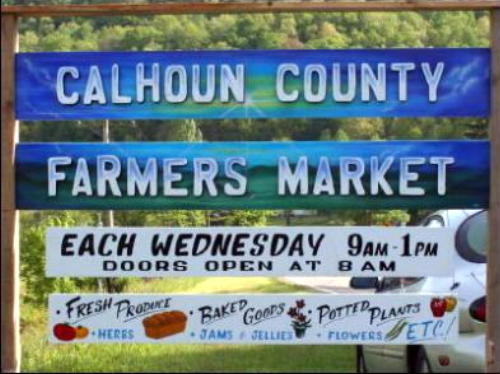 Calhoun Farmer's Market Grand Opening is this Wednesday April 25, from 9 am to 1 pm at the Upper West Fork Park at Chloe, inside the building.
Hot breakfast and lunch will be available.
The Honey Man will be there with honey for sale.
Local vendors will have fresh produce from the garden including, lettuce, kale, green onions, garlic and turnips. How about some farm fresh eggs, homemade jelly or dried peppers and onions? Bee's wax lotion products and other hand crafted items will also be available.
Sanger Farm Menu For April 25
Home Made Biscuits And Pork Sausage Gravy
One Biscuit $4.00 - Two Biscuits $5.00
Croissant Breakfast Sandwich (flaky croissant with egg, cheese and sausage patty) $5.00
Veggie Omelet, Home Fries, Sausage and Toast (2 egg omelet with peppers, onions, mushrooms, tomato and cheese and choice of white or wheat toast) $6.50
*New* Mexican Omelet, Home Fries, Sausage, Toast (2 eggs with onions, tomato, cheese and cilantro topped with Sanger Farm Salsa, sour creme and jalapeno peppers and choice of white or wheat toast) $7.00
Sausage, Eggs, Home Fries And Choice Of Toast (2 eggs your way) $5.50
French Toast, Home Fries and Sausage Patty $5.50
Pancakes and Sausage Patty $5.00
French Fries $2.50
Pulled Pork Sandwich and Side of Cole Slaw $5.00
Cheese Cake by the Slice $3.50
Coffee, Water and Soda's $1.00
The market is open every Wednesday from 9:00 a.m. to 1:00 p.m. SNAP (EBT) Cards are accepted for purchases. Shopping at the farmers market will give you the freshest produce available anywhere and will keep your grocery dollars right here in the community.