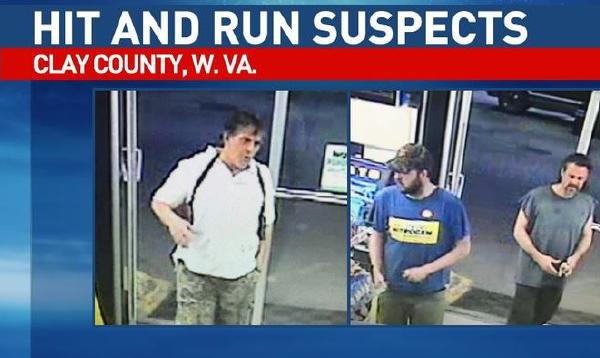 By Bob Weaver
4/15/2018 4:30 PM - State Police are still searching for three individuals who were involved in a hit and run that struck a pedestrian early Sunday morning near the intersection of Stinson Road/Route 16, in Calhoun County.
Police say the three subjects exited their car after striking Benjamin Stewart, 25, of Bickmore, and then quickly left the scene traveling south toward Clay County.
They were caught on a local surveillance camera, and then were caught on camera at a convenience store, a few miles away.
Troopers said the three men were in a dark red, later model Chevrolet S-10 Blazer or GMC Jimmy when they struck a pedestrian at about 5:30 Sunday morning near the Calhoun-Clay County line.
Troopers said the incident was caught on a neighbor's surveillance camera.
Responders at the scene said Stewart had a fractured skull, with reports later saying he is critical.
Anyone who recognizes or sees these three men are asked to call the Grantsville State Police Detachment at 304-354-6334.
PEDESTRIAN VICTIM OF HIT AND RUN ON RT. 16 STINSON - Benjamin Stewart, 25, Reported To Have Skull Fracture, Air Lifted To Med Center
4/15/2018 6 AM - A 25-year-old man was struck by a vehicle on Rt. 16 near the intersection of Stinson Road (Mud Fork), a short distance from Stinson Grocery.
State Police say the man was struck by a hit and run driver before 6 a.m. Sunday.
Benjamin Stewart, 25, of Bickmore was reported to have a skull fracture.
A chopper flew the injured man to a medical center from the Upper West Fork Park.
His condition is not known.
The Upper West Fork VFD responded to the call.
Cpl. J. B. Hunt was investigating the incident.