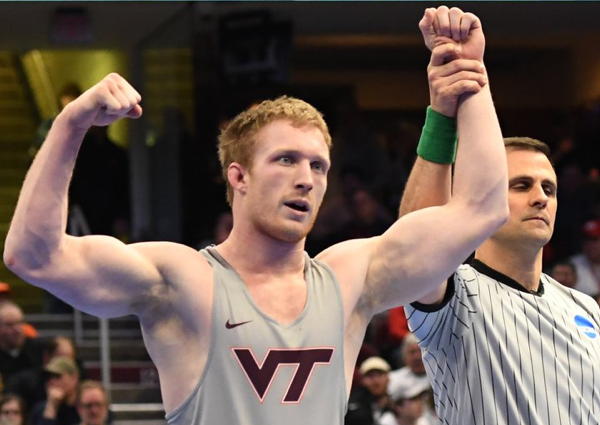 Jared Haught, son of Tracy and Patty Haught of Big Springs earned his 3rd All American Honor and was the first WV native to be a national finalist in the NCAA Division 1 National Wrestling Championships held March 15-17, 2018 in Cleveland, Ohio.
Jared placed 2nd overall in the tournament and finished his wrestling career at Virginia Tech as a 3 time All American. He was also a 2 time ACC champion and in 2017, he was named ACC Wrestling Scholar Athlete of the year.
Jared will graduate in May with a mechanical engineering degree and has accepted a job with Corning, Inc of Christiansburg, VA. Jared will also marry his high school sweetheart, Morgan Armstrong in May.
Jared's family would like to invite everyone to a celebration in his honor on Saturday, March 31 from 5:00-8:00 pm at the West Fork Community Park in Arnoldsburg, WV. Feel free to stop by anytime during the celebration to visit with Jared.
Jared is the grandson of Randall and Mila Arnold of Arnoldsburg and June Haught of Big Springs. He is the great grandson of Thelma Beckett of Arnoldsburg.