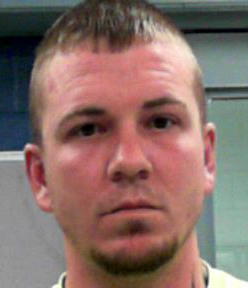 A man is facing a number of felony charges in Roane County following a violent attack on a family member, according to the Roane County Sheriffs Department.

The victim alleges that Derrick Allen Shaffer, 28, headbutted her and stuck a handgun in her mouth, according to a criminal complaint, the incident happening on Hersberger Road, not far from Clendenin, during the early morning hours of March 15.

The victim requested an ambulance after the incident, saying she was bleeding from the nose, mouth and eye and was taken to Roane General Hospital. The suspect fled.

The complaint included graphic details of what Shaffer allegedly put the victim through the night prior, that the victim had locked herself in her room, with Shaffer forcing himself in.

Shaffer then slammed her on her back and began to choke her, says the complaint.

When she asked him to stop, that's when Shaffer allegedly headbutted her in the face. He choked her again, and she lost consciousness, she told deputies.

She regained consciousness, and Shaffer placed a firearm in her mouth and "down the back of her throat". He removed the gun from her mouth, and then placed it in his own mouth and began choking her again, according to the criminal complaint

He headbutted her two more times, according to the victim.

Deputies investigating the case said they observed heavy bruising and swelling on the victim's face, as well as red marks on her neck that support her statements regarding being headbutted and choked. The victim also had a defensive wound on her right hand.

Shaffer is charged with strangulation x4, malicious or unlawful assault, wanton endangerment, unlawful restraint, domestic battery, domestic assault, brandishing, and interfering with emergency communications.

The suspect turned himself in to deputies with the Kanawha County Sheriff's Office in the afternoon. His bond was set at $70,000 cash only.