The ASPIRE after-school program is up and running at Arnoldsburg Elementary, Mondays through Thursdays 3:30 to 6:00 p.m.

Staff members say, "We offer many fun activities for children in Kindergarten through 4th grade. All students receive a supper meal as soon as the school day ends and have 30 minutes to eat. After they eat, students then rotate throughout stations including; Homework, Healthy Choices, Read-Aloud Independent Reading, and Steam."

New this year is a homework station. Ms. Betty works with each grade level for 30 minutes and ensures homework is complete and helps students learn good study habits. She also collaborates with grade level teachers to help review specific skills based on teachers' recommendations. Homework help is a great addition to our program.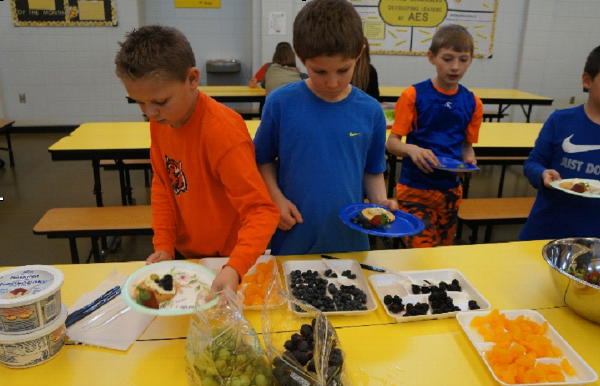 (L-R) Travis Thomas, Eli Bailey, Jimmy Stout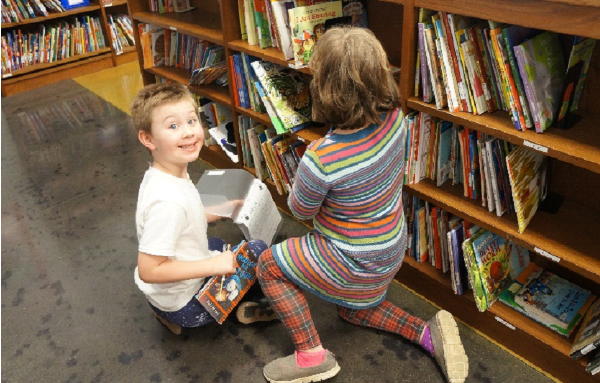 Cohen Blankenship, Izabella Zwoll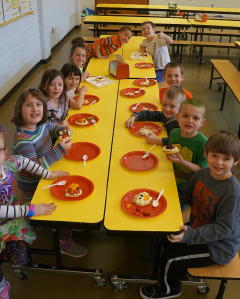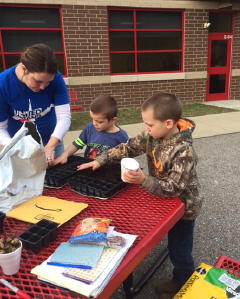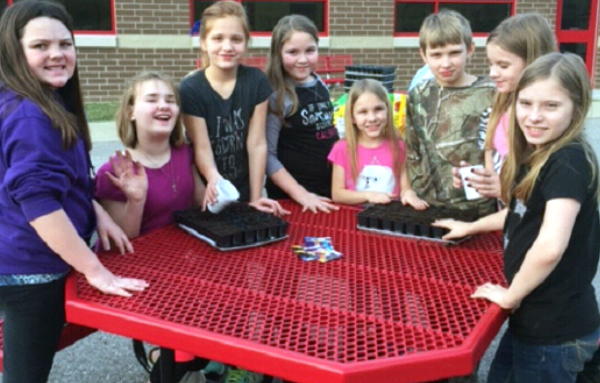 The Healthy Choices Coordinator has begun implementing a healthy snack into the nutrition curriculum. The students have fun while learning about physical fitness. They also learn about sportsmanship, fair play, and being kind to others. The students will make a snack once a month as part of the importance of eating healthy. This week, students created fruit pizza using various types of fruit and a sugar cookie. It was a favorite activity among many of the students.
Mrs. Benson, along with a student worker Macy Schoolcraft, is working to make life long readers. The guided independent reading practice (GIRP) program allows students to read books at their level, have books talks and take simple quizzes to insure comprehension. GIRP gives students the opportunity to build their fluency and hopefully develop a love for reading.
Mrs. Bailey is busy helping the students with projects for our school's annual St. Jude entrepreneur week. They have chosen to plant "starter" plants for this year's event. Each grade has chosen a different plant and is keeping a journal of care. Each day a different student gets to record in the journal their observations about their class plants.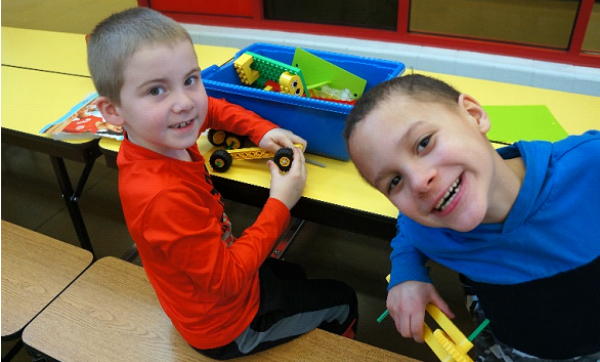 The STEAM classes are getting assistance in math
based on what they are working on during
school. Legos remain a popular activity as well
If you are interested in joining the afterschool program, please contact Cathy Dickey or Kelley Sampson at 304-655-8616.