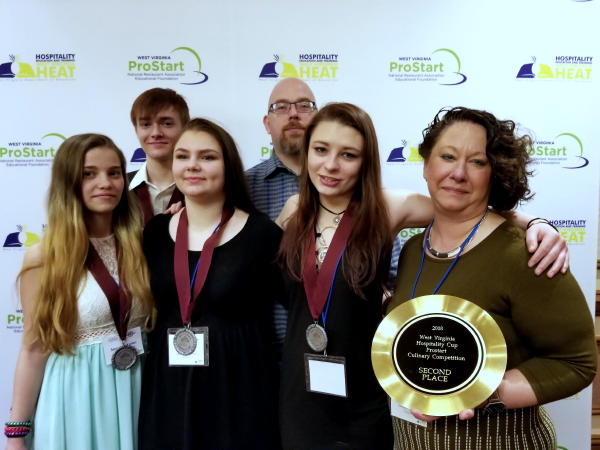 (L-R) Savanna Rezko, Jonathan Murphy, Raven
Loyd, Tim White, Ruthann Cain, Annette Benson
CHARLESTON, W.Va. - Local students from the Calhoun Gilmer Career Center (CGCC) showcased their culinary expertise at the 17th Annual West Virginia Hospitality Cup - ProStart Invitational. Calhoun senior Savanna Resko, along with Gilmer County students Raven Loyd, Jonathan Murphy, and Ruthann Cain took Second Place among competing schools from all across the state.
The Culinary Competition highlights each team's creative abilities through the preparation of a three-course meal in 60 minutes, using only two butane burners, a camp stove, and without access to running water or electricity. The event is rigorously judged by experts in the field from culinary academies, as well as renowned Chefs. As the second-place winners, team members will receive scholarships from a total of 10 post-secondary schools, both in-state and from across the country worth thousands of dollars.
CGCC ProStart Culinary and Baking/Pastry Arts Instructor Chef Annette Benson worked with the team throughout the school year preparing for this event. "Many after school hours were put in to have the team ready for the intense pressure of the competition," said Benson. "I am very proud of the hard work and passion these students put into this competition."
Bryan Sterns, CGCC Administrator added, "We are always excited about our Career Center students that participate and excel in State and National competitions. It is with great pleasure that I congratulate Chef Annette Benson and her Culinary team for their second-place finish."
In addition to the instructor, each team must have a working foodservice industry professional as the team's mentor. For the CGCC team Chef Tim White served in this role. White formerly served as the Executive Chef at the Stonewall Resort, and presently serves with Aramark At Glenville State College.
The ProStart program, administered in West Virginia by the National Restaurant Association Educational Foundation (NRAEF) and WV HEAT, is a two-year curriculum designed to teach high school students the management skills needed for a career in the restaurant and foodservice industry.
Students also have the opportunity to participate in paid internships where industry managers mentor them. Students who meet academic standards, complete a checklist of competencies and participate in at least 400 hours of a mentored work experience are awarded the ProStart National Certificate of Achievement, which signifies they are well qualified to enter the workforce. Currently, 52 ProStart programs operate in West Virginia with an enrollment of approximately 1,200 high school students per year.