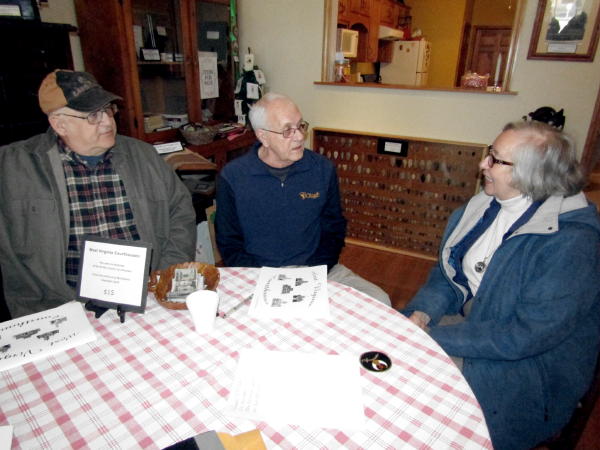 Bill Gherke (L) and Carolyn Dawson Elza (R)
visit with artist Larry McCallister (Center)
Former Calhouner Larry McCallister spent Friday at the Calhoun Historical Museum signing copies of his new book, drawings of the state's 55 county courthouses.
McCallister spoke with a large number of visitors, while selling all the copies of the book he had with him.
"It's been great coming back to the county, being in this museum and speaking with a lot of old acquaintances," he said.
Framed prints of his drawings are on display at the Cultural Center in Charleston.
McCallister, a former Calhoun Commissioner, currently resides with his wife, Cheryl, in Washington, WV. They have two daughters, Stacy Crook and Kari Lowe. He graduated from Calhoun High in 1961, and Glenville State College with a degree in business and art.
You can obtain copies of book by calling McCallister at 304-863-5539 or email larryamcc@hotmail,com.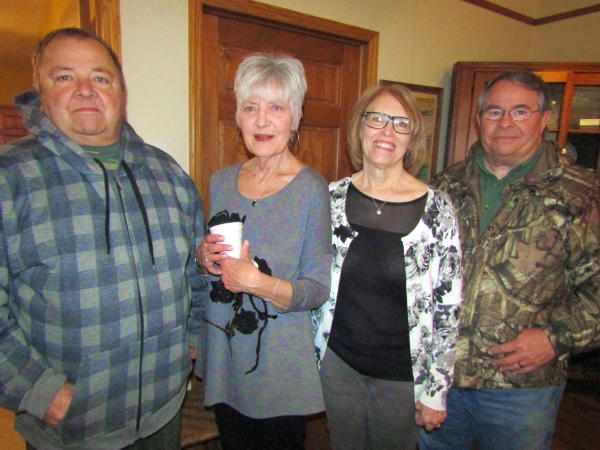 Visiting for the afternoon (L-R) Larry Harris, (Larry's wife) Cheryl
McCallister Terry Harris and Grantsville Mayor Ron Blankenship