3-17-2018 - Frontier Communications has taken legal action against employees who are on the picket lines for nearly two weeks.

On Thursday March 15, the company was granted a temporary restraining order to prohibit employees from picketing in large numbers, using violence and interfering with business. The order cites "unlawful violence, property damage, mass picketing and misconduct" as reasons for the action.

The order said employees on strike are not allowed to interfere with business activities including blocking the entrance of Frontier buildings or work sites. It states workers are allowed to peacefully strike but in groups no larger than six people, and they must be at least 15 feet away from the company's property.

Emails to the Hur Herald complained they had been without landline service 14 days, saying their phone was the only connection for the elderly occupants to the outside world.

More than 1,400 Frontier workers across the state of West Virginia and Virginia have been on strike for 13 days after failed contract negotiations. Workers told our sister station, 59 News, that they're picketing for 100 percent job security.

A Frontier Communications spokesperson said, "Our objective in these negotiations has been, and continues to be, to preserve good jobs with competitive wages and excellent benefits while addressing the needs of our ever-changing business. At this particular juncture, Frontier is electing not to comment further on the details associated with negotiations."

Picketers will have the chance to dispute the temporary order at a hearing scheduled for March 21 in Charleston.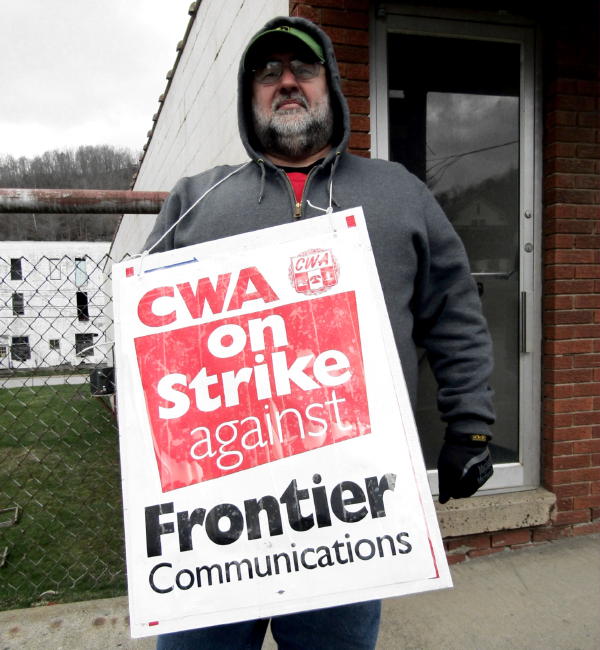 2/12/2018 By Bob Weaver
Calhoun is a county that Frontier's infrastructure needs fixed and replaced, with the WV Public Service and the WV Attorney General's office getting record numbers of complaints about phone and internet service and the lack of real broadband service.
Repair services are often scheduled 10 days or longer after the initial outage report, with a number of longtime Frontier workers now retired, now being covered by two or three workers.
Current Frontier workers are mostly concerned about the proposed lay-offs of about 500 employees, many of which have already gotten their pink slips.
Currently, sections of WV are experiencing outages to several thousand customers, with company temps working on repairing service.
The Communications Workers of America called the strike, which includes approximately 1,400 employees, most of them in West Virginia, comes after 10 months of contract negotiations. CWA members have been working under the terms of the old contract since late last summer.
"We have been very clear throughout the bargaining process that our top priority is keeping good jobs in our communities," said Ed Mooney, Vice President of CWA District 2-13 in a statement.
"Going on strike is never easy. It's a hardship for our members and the customers who we are proud to serve. But the job cuts at Frontier have gone too far — we know it and Frontier's customers know it. It's time for Frontier to start investing in maintaining and rebuilding its network in West Virginia."
The union maintains Frontier has cut 500 jobs since taking over Verizon's landlines in 2010. Union officials cite numbers from the state Public Service Commission that show complaints from customers have risen dramatically over the last few years.
One union official said the workers are taking a stand for customers.
"Customers are waiting way too long to have their problems resolved, and too often we're back fixing the same problems over and over again. Frontier is leaving West Virginia behind," CWA Local 2226 (Bluefield) President Johnny Bailey said. "The network has been neglected and there are just not enough experienced, well-trained workers left to handle the service requests."