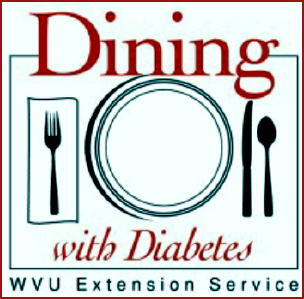 Dining with Diabetes, a free program for people with Diabetes and their families will be held Thursdays, May 10th, 17th, 24th, and 31st beginning at 12:30 p.m. at the First Baptist Church located at 418 High Street, Grantsville. The program is free and open to anyone with diabetes and their family members. Classes will include tasting meals that are healthy and use less fat, salt, and sugar without cutting taste. There will be an opportunity to taste a variety of main dishes, side dishes, and desserts. This is a four week class with a follow-up class held three months later. Each class is approximately 2 hours long.

For more information or to register, contact Barb McKown 304-354-9700 ext. 1235. Deadline to register is May 4th.

Programs and activities offered by the West Virginia University Extension Service are available to all persons without regard to race, color, sex, disability, religion, age, veteran status, political beliefs, sexual orientation, national origin, and marital or family status. Issued in furtherance of Cooperative Extension work, Acts of May 8 and June 30, 1914, in cooperation with the U.S. Department of Agriculture. Director, Cooperative Extension Service, West Virginia University.