3/4/2019 - Calhoun prosecutor Shannon Johnson says that Jason McVey of Elizabeth will come to trial on March 26 in Grantsville in the shooting of a Back Fork, Calhoun man in March of 2018.

McVey was charged with attempted murder of shooting in the face of Joshua Hardman, 28, of Tanner.

WIRT RESIDENT JASON MCVEY ARRESTED FOR CALHOUN SHOOTING - Shooting Victim Identified

3/5/2018 11 AM - The Ritchie County Sheriffs Department arrested the shooter of a Back Fork, Big Springs, Calhoun Man, Monday morning.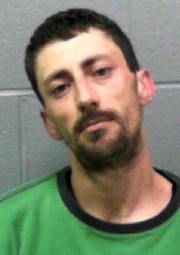 Jason McVey, 31 (left) of Elizabeth, was taken into custody after officers were called to investigate intruders near Washburn, Ritchie County, McVey and a female were taken into custody, according to First Sgt. O. S. Starsick of the WV State Police.
McVey is being arraigned in Ritchie County, charged with attempted murder in Calhoun. He is in North Central Regional Jail.
He was charged with trespassing and possession of a controlled substance in Ritchie County.
Also charged as an accessory and for trespassing in Ritchie County is McVey's girlfriend, Chanelle S. Cottrell, 27, of Palestine. Wirt County.
The victim, who was shot in the face, has been identified as Joshua Hardman, 28, of Tanner. He is in Ruby Memorial with a gunshot wound to the face, considered to be not life threatening.
Hardman told troopers he was working on a vehicle outside of a garage when he was shot, telling authorities he had been in fear of McVey.
A pistol reportedly used in the shooting has been recovered.
3/4/2018 11 PM - Police were scouring the region Sunday night for the shooter of a Back Fork, Calhoun man.
While a BOLO was issued on the shooter's vehicle, police had yet to identify him late Sunday night.
The medical status or identity of the victim, who was shot in face, has not been released, he being flown from Minnie Hamilton Health System to a medical center.
3/4/2018 7:40 PM - The victim of a gunshot wound to the face, who was brought to Minnie Hamilton Health System in Grantsville Sunday night, is being taken by chopper to a medical center.
The man was shot by a male suspect on Back Fork Road near Big Springs, about three miles from Rt. 16.
A BOLO has been issued for the male shooter, who fled the scene from Back Fork, turning left or right on Rt. 16 at Big Springs. Area police agencies are looking for the suspect.
The vehicle is a 1994 Red Jeep Wrangler with a decal across the front windshield reading "It's A Jeep Thing," license number SQ033694.
Police said the gun used in the shooting was left at the scene, indicating he could still be armed.
3/4/2018 6:35 PM - Minnie Hamilton Health System reported that a man walked into the emergency room Sunday with a gunshot wound to the head.
Calhoun 911 dispatched a State Trooper to the hospital at 6:35 p.m. to investigate.
The gunshot victim was reportedly shot by a man, who fled the scene in a Red Jeep.
Sgt. C. J. Weekly and Cpl. J. B. Hunt was responding to investigate the incident.
Details will follow.