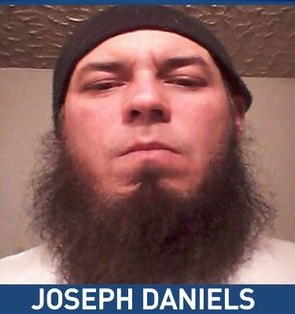 Photo courtesy of WCHS
UPDATE 3/3/2018 - A man wanted in connection with a stabbing in Spencer Thursday is now in custody.
West Virginia State Police say Joseph Daniels turned himself in Saturday.
Daniels walked up to a trooper performing a traffic stop in Wayne County and turned himself in.
Daniels was on the run since Thursday morning.
UPDATE 3/2/2018 - According to deputies with the Roane County Sheriff's Department, the vehicle the suspect was driving who is wanted for the stabbing early Friday morning has been recovered.
The 2004 Jeep Liberty was found by Cabell County deputies in Ona on Friday afternoon.
The suspect is still on the run and considered Armed and Dangerous.
ORIGINAL STORY - Roane County deputies are looking for a man who they say stabbed a woman in Spencer during the early morning hours Friday.
While few details are available, deputies say Joseph Daniels could be headed to the Branchland area in Lincoln County.
The stabbing took place about 2 a.m. Friday. Deputies said Daniels held a knife to the victim and cut her.
Daniels is about 5 feet 7 inches and weighs about 200 pounds. He has multiple tattoos, and deputies believe he is driving a 2004 tan or gold Jeep Liberty Sport. The vehicle is missing the spare tire on the back of the car. The license plate number is 1PE117.
Anyone who sees Daniels or has information is encouraged to call the Roane County Sheriff's Office or 911.