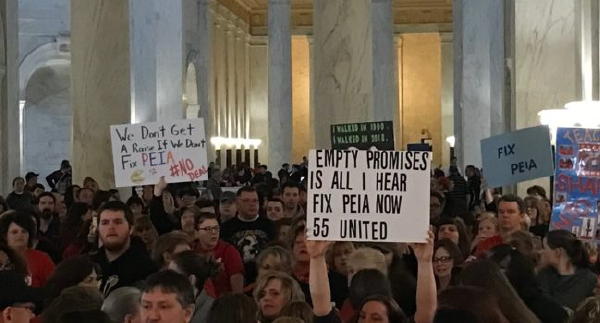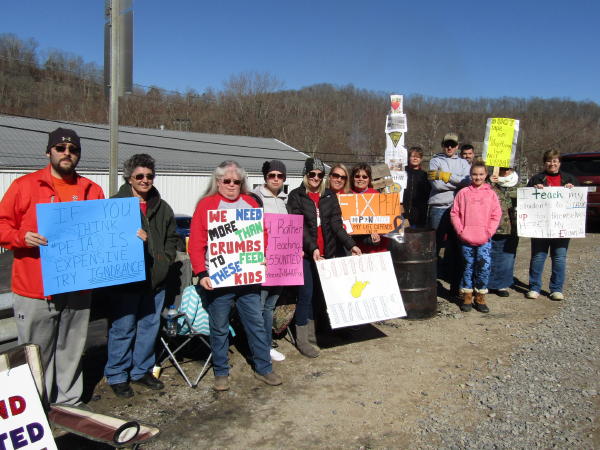 By Bob Weaver
3-2-2018 - The WV teacher grassroots strike is at a stalemate, no end in sight.
Angry teachers protested at the capitol again, after the Senate leaders refused to vote on a 5-percent education pay raise that was passed by the House Wednesday night.
State troopers would also get that amount, and other state employees three percent. Republican leaders say it's not affordable.
"I think that to rely upon money that was found over night, for a pay raise is a horrible economic condition in which to put yourself," said State Sen. Mitch Carmichael, (R) Jackson - Senate President.
Sen. Carmichael contends that the money used for raises could likely be put to better use with propping up PEIA benefits.
"I'm concerned that the Senate will play games, and not pass the pay raise for the teachers, service personnel and state troopers. Or if they do intend to pass it, that they won't do so until several days goes by," said Del. Tim Miley, (D) Harrison - Minority Leader.
"Let's get it done. The majority of people behind us say they want this done. And they want their teachers back in the classroom. The teachers want back in the classroom., They want to teach students," said State Sen. Roman Prezioso, (D) Marion - Minority Leader.
But no one was more disappointed that the teachers.
Meanwhile, schools will remain closed Friday.
TEACHERS GET 5% PAY RAISE FIRST YEAR (MAYBE), WV SCHOOLS CLOSED - State Employees Get 3%, Still Unrest Over PEIA
UPDATE 3-1-2018 - West Virginia Senate President Mitch Carmichael said Thursday that the Senate believes the $58 million in new revenue for pay raises for school employees, State Police and state employees would be better used in a stability fund for public employees' health insurance.
Meanwhile, the teachers continue to be off the job because of the uncertainty.
UPDATE 2-28-2018 - The strike continues.
Union leaders advised West Virginia educators to return to their schools, saying there's evidence that state leaders are making good on promises on higher wages and solutions for health care costs.
The teachers and service employees aren't sure of the promises.
All 55 county school systems West Virginia counties have canceled school Thursday, including Calhoun. Teachers remain unhappy about not having a PEIA benefit fix, which has continued to cost them more money from their annual income.
While union leaders in Charleston accepted the pay raise, it appears state teachers and employees remain angry.
"Collectively it was agreed on by the majority that the insurance fix needs to have equal representation of state employees. The task force will not be created until March 15th with a funding plan and fix due by December 2018," said Calhoun teacher union rep Craig Arthur.
"The pay raise bill passed the house, but it's not on the senate finance agenda for tomorrow. People don't feel comfortable going back to work until they make the legislators accountable for getting the bill passed, and the PEIA insurance task force created," Arthur concluded.
Local president of the WVEA, Jacob McCumbers said local employees took a vote that said, "We would continue with the support from Calhoun and show our numbers in Charleston during legislation. We would like to thank all those who have supported us this past week and for them to remember it's for all state employees, not just educators."
McCumbers said the Governor has stated, "There are several possibilities that will be looked at for the revenue we need to solve the PEIA issues once and for all. The possibilities of additional severance taxes on oil and gas, gaming revenue from sports betting, tax dollars being generated from our roads projects, with continuing growth in our economy."
2-28-2918 -Calhoun teachers and school employees have canceled school Thursday, after a four-day strike regarding wages and the reduction of benefits by the PEIA healthplan.
Several other counties are also canceling school Thursday.
Wednesday was called a "cooling off" day for West Virginia school employees after a strike deal was reached, but many who returned to the Capitol Wednesday were still hot under the collar.
Hundreds of cheering teachers and school service personnel made it clear they are still not happy. Some held signs, including a huge banner that said "Educators Vote: Make 'em pay in May" and bore messages that urged a permanent fix for the Public Employees Insurance Agency.
Calhoun Superintendent of Schools Kelli Whytsell says she will have a recommendation to the board on March 12th to reschedule school days for lost time during the strike.
Teachers and service personnel delivered food bags to Calhoun students Tuesday, while picketing on the Grantsville bridge.
Jim Justice announced Tuesday evening that teachers will receive a 5 percent raise, along with the WV State Police.
"We're going to give all state employees a 3 percent raise," Justice said, adding that those in education will receive an extra 2 percent the first year.
He also said he and lawmakers are "going to dig into PEIA for fixes."
There is some mulling over natural gas severance taxes to fund WV schools.
While some Democrats like the Governor's idea of raising the severance tax, they don't like any huge concessions to help the fossil fuel industry.
"The last thing we should do is give it to them like we gave coal away decades ago. We are standing at a point of history, right now, where we can finally do something with the resources underneath our feet to benefit our people," said State Sen. Richard Ojeda, (D) Logan.
TEACHERS AND EMPLOYEES CONTINUED
PROTEST ON GRANTSVILLE BRIDGE TUESDAY