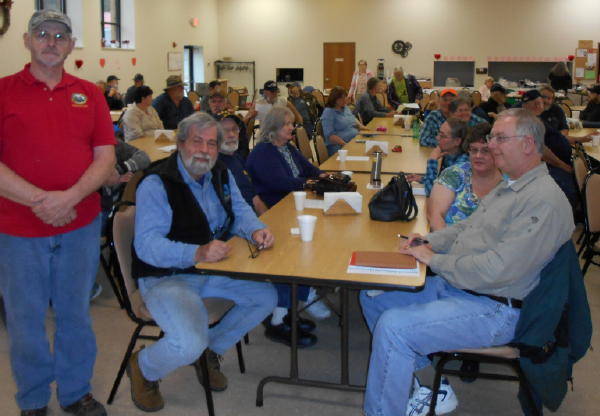 Standing - Wade Stiltner; Seated first row front to back -
Marc Siudet, Don Pye, Laura Pye; Second row - Timothy Hopkins,
Miriam Hopkins, Cynthia Jackson, Marianne Siers, Larry Siers
Submitted by Al Darman, Secretary for the WCBA
The West Central Beekeeping Association held their regular monthly meeting, February 24. The meeting was called to order by President Dale Cunningham and Al Parsons led the members in the Pledge of Allegiance. There were 51 members and guests present which included all officers.
Chuck Connors discussed the My Community Foundation grant which was awarded to the WCBA. It is to be used for sharing the cost of bees, medications and feed. To be eligible for cost sharing members must be paid in good standing, attend at least 4 meetings per year, and fill out the required paperwork. Each member participating must complete the form that Chuck has prepared and distributed. Application will then be made to the foundation for reimbursement.
Nancy Truppi reported that the checks for last year's 2017 cost sharing have been distributed to the eligible members. She also reported that the treasurer's computer along with the required software authorized at last month's meeting has been purchased.
The money for purchase of this year's bees was completed. All available packages were purchased. Al Darman will contact Eric Grandon to make further arrangements to pay for, and arrange delivery of, the bees.
Al Parsons reported that the meeting room has been paid for thru 2018. The WCBA meetings will be on the 4th Saturday of the month except for November which will be on the 10th and no meeting in December, as usual. All meetings will be at 1:00 p.m. at the COA in Spencer.
Brenda Tatterson volunteered to head up the Honey Show, scheduled for Saturday September 8, 2018, as well as the Black Walnut Festival efforts. This is a huge undertaking and she will need everyone in the club to volunteer to help in some capacity.
Wade Stiltner, State Apiarist, then gave an interesting and educational talk on "How to Keep Your Bees Happy". He covered many dangers to the bee population such as wasps and Yellow Jackets, Varroa Mites, and even lawn mowers. His explanations of how to address these and other concerns and his demonstrations and instructions on splitting hives was highly educational and well received by the membership.
The meeting was then adjourned. Larry Siers gave the blessing and lunch was served.
The next meeting of the WCBA will be March 24th, 2018 at 1:00 at the Committee on Aging [COA] building in Spencer. The public is invited.