2-26-2018 - Thousands of West Virginia teachers and service personnel crowded the Capitol complex Monday with union leaders cheering, saying the strike will continue Tuesday. They urged legislative leaders and West Virginia Gov. Jim Justice to come to the bargaining table and resolve the strike.

"We are challenging and telling the governor, the legislature, the speaker of the House, the president of the Senate to sit down with us now at the same table. The state is watching the nation's watching. We are 55 united, and we still say, 'Do your job, so we can do our job.' "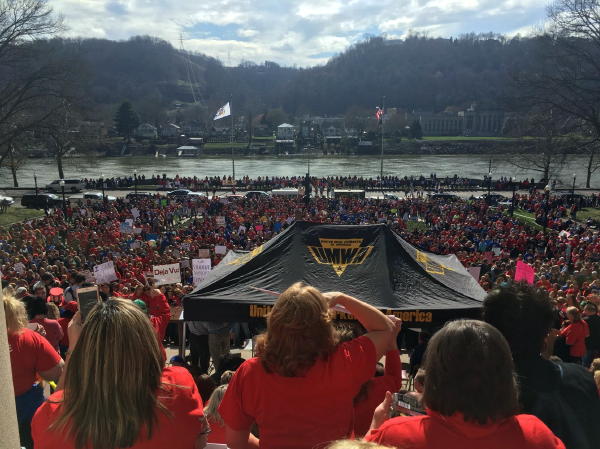 Union president Lee said union leaders have been consistent in their message that they want pay raises, a long-term fix for PEIA, a measure of respect and to drop legislation that threatens seniority and would force them annually to sign up for union dues.
"You want to fix PEIA, then we have to be at the table," Lee said. "They can bring us to the table and get this thing solved. I guarantee everybody out there would rather be in front of their students."
Joe White, executive director of the West Virginia School Service Personnel Association, talked about the legal threat strikers have faced since state Attorney General Patrick Morrisey said they are breaking the law with their actions. He mentioned civil rights leaders and movements in which the law was breaking.
"So when it comes to breaking the law, I say so what?" White said.
Calhoun teachers and service personnel will be delivering food bags for students at a number of locations Tuesday and continue pickets. (See additional story)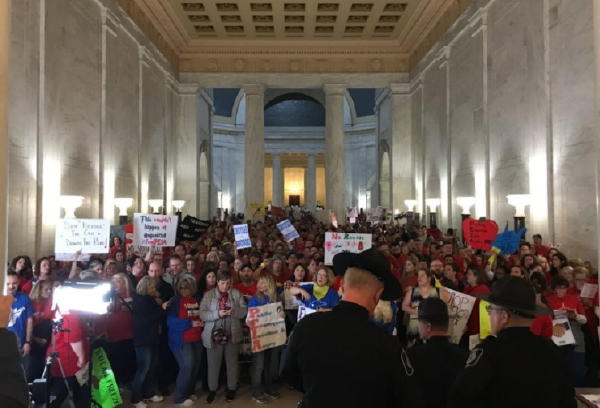 Thousands of teachers and state employees picket at
Capitol and around West Virginia for better benefits
WV TEACHERS AND SERVICE PERSONNEL CONTINUE WALK-OUT MONDAY - Calhoun Holders Go To Charleston, Others Picket In Grantsville-Arnoldsburg
UPDATE 2-24-2018 - West Virginia Education Association President Dale Lee said at a news conference Friday afternoon the statewide teacher work stoppage will continue on Monday.
So far, state officials have not expressed interest in solving their demands.
Lee said after inaction by state lawmakers, schools will be closed in all 55 counties.
This has been the first such walk-out since the 1990 strike.
The West Virginia Education Association released the following statement Friday afternoon:
"It is clear that education employees are not satisfied with the inaction of legislative leadership or the Governor to date. Education employees have not seen appropriate progress on issues vital to teachers, professional personnel and service personnel, and that is why they are still here."
"We continue to await legislative action to satisfy the needs of education employees so they may return to the schools and continue to provide quality education to the children of our State. Our members have spoken and the Legislature has not. As a result, the education employees are not prepared to go back to work yet. Therefore, teachers and service personnel across the state will continue to be out on Monday."
By Bob Weaver
2-23-2018 -Thousands of teachers and school service personnel in West Virginia began the first day of a two-day walkout Thursday in Charleston and in their communities around the Mountain State, ignoring a threat by the state attorney general that their action is illegal and showing their continued dissatisfaction over pay and health insurance issues.
Calhoun teachers and service personnel went to Charleston, while others picketed in Grantsville and Arnoldsburg throughout Thursday, widely rejecting a reduced pay raise. Passed is a bill that decreased an original proposal from 5% total down to 4% total over the next three years.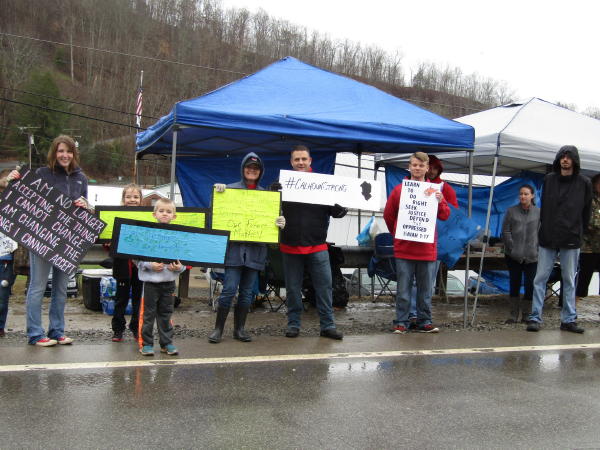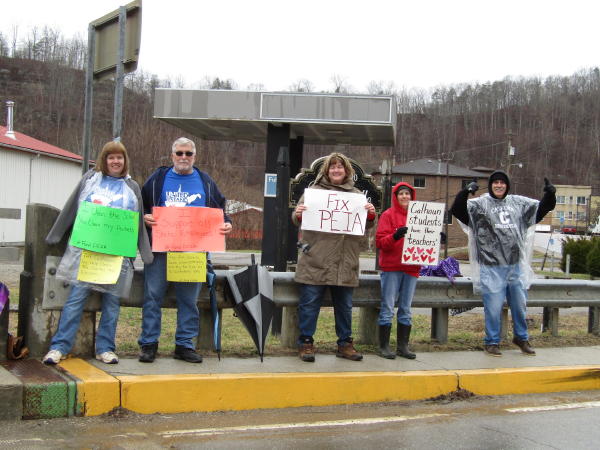 Calhoun teachers and service personnel picket
in Grantsville and Arnoldsburg Thursday
Governor Jim Justice and the legislature put a temporary fix on the PEIA problem.
West Virginia teachers are among the lowest paid in the USA.
See SUPERINTENDENT WHYTSELL CALLS WALK-OUT "TRYING TIMES," - Offer Called "Slap In Face," School Canceled Thursday-Friday