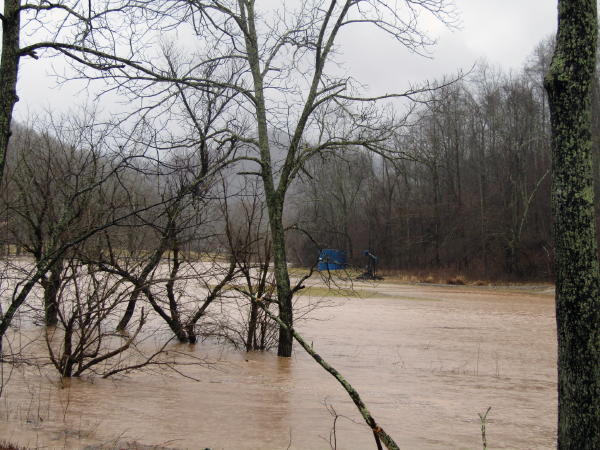 As far as other rivers go the Little Kanawha is cresting just below flood stage at Grantsville Saturday morning to 8" above flood stage, but later predictions indicated it will just reach the 36 foot flood stage.
The river will peak below flood stage at Elizabeth.
The main focus, without a doubt, is the Ohio. It is now forecast to reach 40 feet at Parkersburg Sunday. That would be the highest level since January 2005. From there it will work crest downstream at Racine and Pomeroy, causing moderate flooding.
LK water was over the road on the Enon Straight, Rt. 7, Friday night.
The town has not experienced a significant flood since 2000.
Following two days of rain, creeks and rivers in Calhoun are coming out of their banks, shown above is bottom-land flooding near Chloe on Friday, with reports that West Fork of the Little Kanawha waters were on Route 16 Friday but started receding later in the night.
Top 10 LK Historical Crests:
(1) 43.90 ft on 03/07/1967
(2) 43.10 ft on 04/17/1939
(3) 42.87 ft on 11/05/1985
(4) 40.34 ft on 03/02/1997
(5) 39.50 ft on 12/15/1949
(6) 39.50 ft on 12/15/1948
(7) 39.47 ft on 02/02/1951
(8) 38.76 ft on 01/26/1978
(9) 38.73 ft on 02/19/2000
(10) 38.69 ft on 02/10/1994