By David Hedges, Publisher
thetimesrecord.net

A man wanted for breaking into a home on Egypt Ridge Road last month was nearly captured Monday. While he managed to escape police did recover the car he was driving.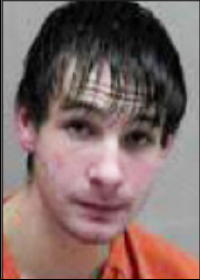 Justin Skaggs, 20, is wanted for burglary and attempted robbery for a Jan. 8 incident on Egypt Ridge Road.
Roane Sheriff Todd Cole said he spoke with Skaggs in Grantsville sometime after the crime and Skaggs admitted to going to the home with Dylan Little.
Cole said Skaggs denied entering the house, but the Sheriff suspects that part of the story may not be true.
The men apparently believed no one was in the home at the time, which was just before 1 p.m.
After breaking a storm door and forcing a metal door to gain entry to the home, the suspect entered a bedroom and found the homeowner in bed.
He allegedly shouted to the other suspect that someone was in the home.
The suspect told the victim, Mike Maloney, he had a gun and demanded his car keys, which Maloney refused to give up. The suspect also told Maloney not to look outside.
When the suspects left, Maloney found a bag of checks and other items the suspects had gathered from his home and left by the door. He also found items from his car that had been thrown on the ground.
When he was interviewed, Skaggs allegedly told police that Little had grabbed a green metal toolbox from a building, which was later confirmed to be missing.
Cole said Skaggs stands 6-1 and weighs 150 lbs. He has previously lived in the Newton area of Roane County and in Grantsville, Calhoun County.
He is wanted on charges of burglary and attempted robbery.
Dylan Paul Little, 25, has not been charged in connection with the crime. Little has been held in the regional jail on other charges from Roane and Calhoun counties since Jan. 12.
Police say the suspects left Maloney's home in a small black car. Cole said Skagg's girlfriend has a black Kia, which they were in Monday night.
The Sheriff said Skaggs "bailed out" of the car, leaving the vehicle, and his girlfriend, in an area between Newton and Wallback.
Police had the vehicle towed.
"He doesn't have a vehicle that we know of," according to Cole, who said, anyone with information that could help police locate Skaggs is asked to contact the Roane Sheriff's Department at 304-927-3410 or 911.