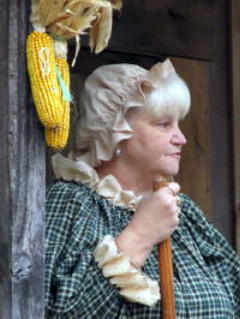 Susan Hoffman Barnes has been a member of the Calhoun County Historical and Genealogical Society for 24 years and has served as treasurer for 20 years, and has now been selected as a 2018 Calhoun History Hero for a Charleston ceremony.

Barnes spearheaded the "Freedom Flags" project, which served both as a society fundraiser and as a way for the county to honor veterans with banners that are displayed on special holidays.

For several years, Barnes participated in the society's "Legends and Lore" historical drama, and she has been an active facilitator of historical programs to familiarize medical students with rural areas.

In addition, she volunteers at the society's museum and Stump House. She also tracks membership and distributes the newsletter.

Barnes was nominated by the Calhoun County Historical and Genealogical Society.

Lisa Carper-Stott , a longtime member of the Roane County Historical Society is the 2018 Roane History Hero. She frequently attends the annual genealogy fair, where she shares her knowledge about the cemeteries, genealogy, history, and people of Roane County.

She has photographed more than 50 cemeteries in the county and has given the society permission to use her images in publication. In 2016, Carper-Stott created a Facebook group for genealogy in a multi-county area, and she does free lookups for people who need research help.

She has helped to reunite long lost family members and to find new connections. Genealogy is her passion, and she loves helping people.