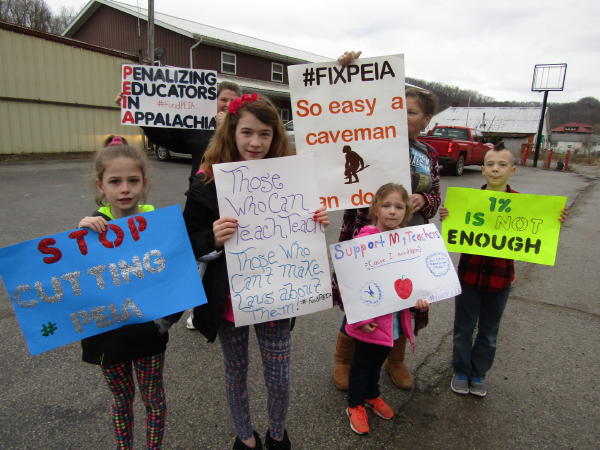 Signs Wednesday in Arnoldsburg support teachers and state employees
School teachers and employees from all 55 counties will participate in West Virginia's first statewide walkout next Thursday and Friday, union leaders announced Saturday.
The announcement came at the end of a rally featuring thousands of teachers and others at the state Capitol, follows weeks of growing tension between state employees, educators and the state Legislature.
The legislature has been jugging a 1% pay raise, with some teachers telling the Hur Herald is embarrassing.
Gov. Jim Justice has stalled increases for the state employee PEIA benefit plan, with no permanent solution in sight.
Such a moratorium on PEIA would leave a $23 million hole in PEIA's budget, according to Justice. A bill passed in the House on Friday (HB 4620) would, if implemented, relocate $29 million from the state's Rainy Day Fund to cover the deficit.
In order to secure long-term funding, PEIA Director Ted Cheatham said at a hearing Monday that because of medical inflation, about $50 million to $70 million would be needed annually to keep the program functioning as it currently does.
As for pay increases, a teacher pay raise bill (SB 267) proposing a 2 percent raise followed by three consecutive 1 percent raises was lodged in the Senate Rules Committee on Friday.
See TEACHERS, SERVICE PERSONNEL AND STATE EMPLOYEES DEMONSTRATE OVER WAGES-BENEFITS IN GRANTSVILLE AND ARNOLDSBURG - State Officials Say Strike "Imminent"