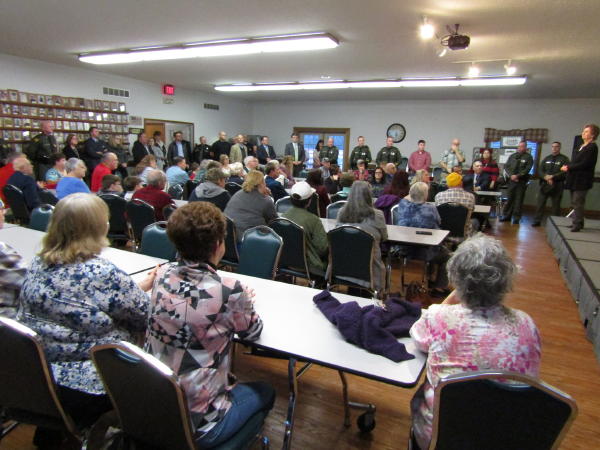 Judge Anita Ashley and Calhoun Prosecutor Shannon Johnson
welcomed the officers and expressed their appreciation to
those who worked to have the local detachment returned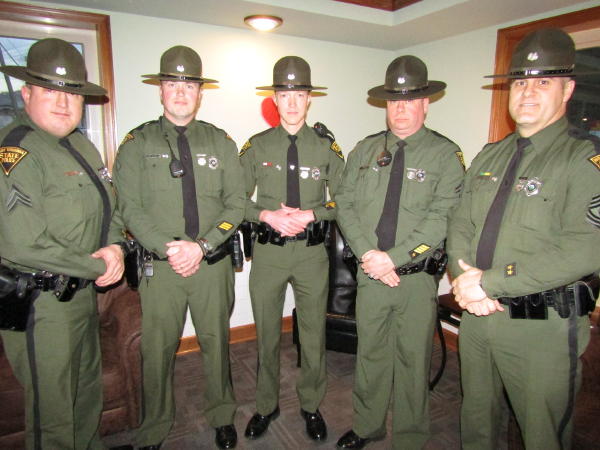 Officers assigned to the county (L to R) Sgt. J. S. Crane,
Trooper 1st Class D. C. Moore, Sgt. C. J. Weekley (Detachment
Commander), Cpl. J. B. Hunt and Sgt. O. S. Starsick (Troop 3)
By Bob Weaver
The West Virginia State Police Detachment has returned its detachment to Calhoun County, with officers now assigned to the county, after it was pulled from the county in December, 2016.
A public reception was held Friday evening welcoming the State Police back to the county, with a large crowd attending at the Grantsville Senior Center.
A number of State Police officials, the assigned officers, state and county officials attended the event.
Circuit Judge Anita Ashley and House of Delegate member Roger Hanshaw were instrumental in convincing the agency to return to Calhoun, officials said.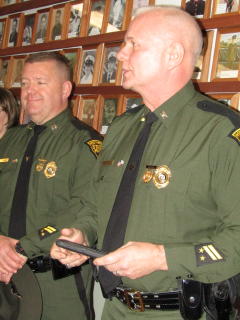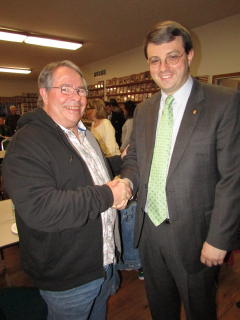 Special guests included Colonel Jan Cahill Superintendent (R)
of the WV State Police, Capt. O. L. Lemon, Troop Commander (L), who
said they are glad the detachment could be returned to Grantsville;
Grantsville Mayor Ron Blankenship (L) and Delegate Roger Hanshaw (R) discuss law enforcement coverage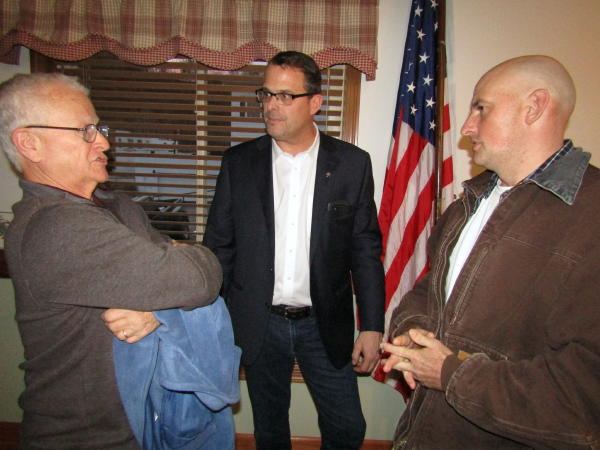 Calhoun Commissioner Chip Westfall (left), Sen.
Michael Maroney (center) and Commission President
Kevin Helmick (right) discuss detachment returning
Commission president Kevin Helmick said, "We'd like to thank officials and citizens for their efforts to return the detachment, and offers of detachment space in convincing the State Police to return."
"It's pretty remarkable," said Helmick.
The detachment will be located in the county courthouse.
The agency also closed two other state detachments in 2016. Since the Calhoun closure, coverage for the county had often been spotty, sometimes with no officer on duty for a day.
Sgt. Starsick said, "I'm happy to see it reopen and make coverage go smoother."
The State Police still has a shortage of officers and resources to cover West Virginia, an issue that is expected to be on the hot burner in the 2018 legislature.