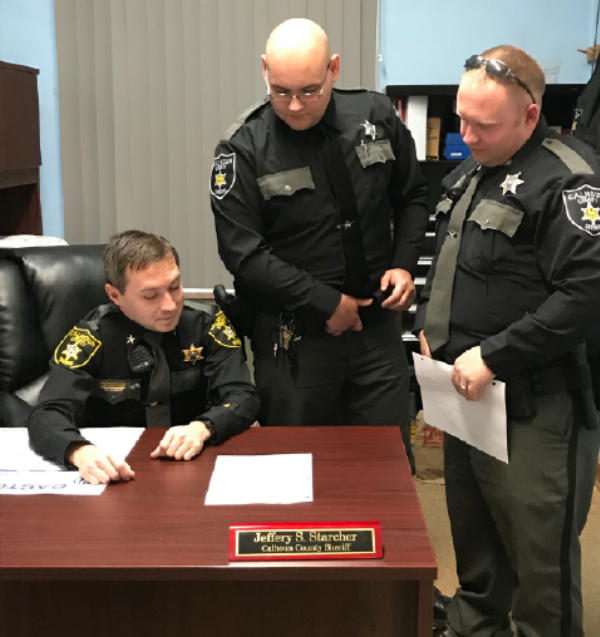 Calhoun Sheriff's law enforcement staff (L to R) Sheriff
Starcher, Server Graham Knight, and Deputy Jason Elkins
The Calhoun County Sheriff's Department, including Sheriff Jeff Starcher, currently has a law enforcement staffing of three, making it one of the smallest departments in West Virginia.
Sheriff Jeff Starcher said, "Despite our shortage of manpower, we remain an active law enforcement agency. In 2017, the law enforcement division of the Calhoun County Sheriff's Office experienced an increase of 753 calls, compared to data from 2016 that was obtained from Calhoun County E-911."
Sheriff Starcher said In 2016 there were five West Virginia State Police Troopers and one full time DNR Officer stationed in Calhoun County.
Sheriff's Department's in the State of West Virginia are charged with the responsibility to conduct law enforcement, provide court security, provide the transportation of prisoners, serve civil process, and to execute arrest warrants and mental hygiene pick-up orders.
The law enforcement division of Sheriff's Department currently consists of Sheriff Jeff Starcher, and Deputy Sheriff Jason Elkins. Former Calhoun County Deputy Sheriff Graham Knight is temporarily serving as a court security officer and civil process server until a permanent Deputy Sheriff is hired. The vacancy within the Calhoun County Sheriff's Department was created with the sudden resignation of Deputy Sheriff Warren Basnett.
The Calhoun County Sheriff's Department is currently accepting resumes for the position of entry level Deputy Sheriff.
The department offers a premier benefit package, with a salary that will be commensurate with experience.
Applicants will be required to successfully take and pass a physical agility test. Successful applicants that pass the physical agility test will then be required to take a civil service exam, and pass an extensive background check prior to employment.
Applicants will be required to submit a resume to Jean Simers, Calhoun County Clerk by 4:00 P.M. on Friday, February 9, 2018. For further information, contact Calhoun County Clerk Jean Simers at (304) 354-6725. The Calhoun County Sheriff's Department is an equal opportunity employer.