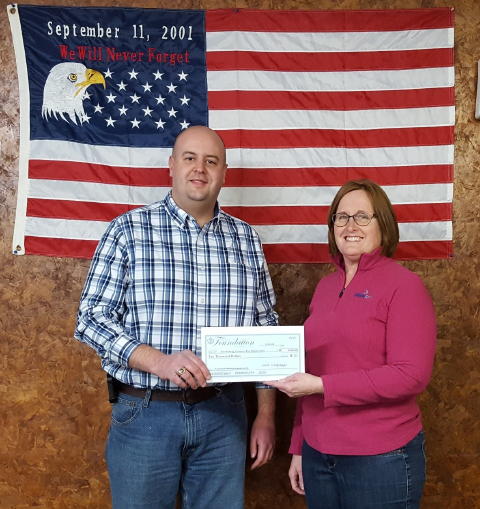 Arnoldsburg Volunteer Fire Dept. member Joe Tanner receives
grant check from LKACF advisory board member Martha Haymaker
The Parkersburg Area Community Foundation and its Little Kanawha Area Community Foundation (LKACF) affiliate recently awarded grants totaling $10,000 to Arnoldsburg Volunteer Fire Department for the purchase of new breathing apparatus units.
The grants were made possible through the Little Kanawha Area Community Grantmaking Fund and the Ausenheimer Memorial Trust. LKACF advisory board member Martha Haymaker attended the department's recent meeting to present the grant.
"These new packs will allow us to better protect the people of Calhoun County," said volunteer firefighter Joe Tanner. "We will be able to enter smoke filled homes to search for people who may need to be rescued."
The Foundation and its LKACF affiliate work with charitable individuals to make a positive and permanent commitment for the future of Wirt, Calhoun, and Gilmer counties in West Virginia.
The Parkersburg Area Community Foundation is a single 501(c)(3) public charity that manages a philanthropic endowment of more than 350 funds representing nearly $40 million in assets, each representing a unique giving partnership with an individual, a family, or a business, civic or non-profit organization.
Since 2004, the LKACF has helped local citizens support the causes that are most important to them and touch every aspect of life in our communities in a wide variety of significant and lasting ways.
For more information about Foundation and its affiliate, LKACF, or to learn more about creating your own charitable fund, visit www.pacfwv.com or call 304-428-4438.