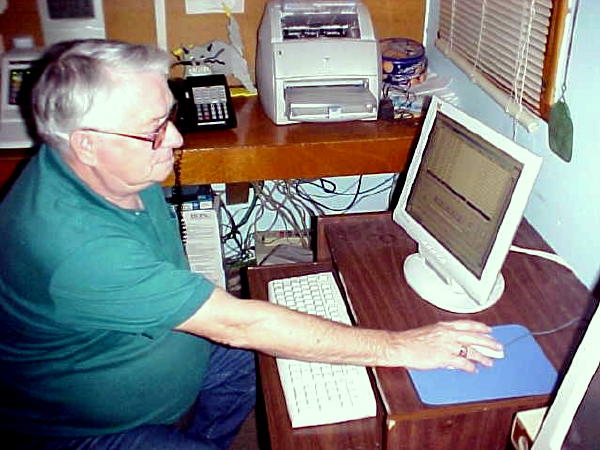 Burl Postalwait shown at old Calhoun 911 dispatching station
Longtime Calhoun 911 dispatcher,78-year-old Richard "Burl" Postalwait, has died after a short illness.
Postalwait was head dispatcher at Calhoun's 911 for about 25 years, starting in the 1990s at the old center at Mt. Zion.
"I certainly learned about the life and times of people who live in the county, both good and bad," Postalwait said.
He was a member of Cortland Lodge #529 F&AM. He enlisted in the Army in 1956 and upon Honorable discharge he worked in the automotive industry. He was member of UAW 1112, retiring from General Motors.
He had been the chairman and member of the Calhoun Democrat Executive Committee.
He was the father of Richard (Rick) Postalwait, longtime Calhoun County magistrate and Kevin B. Postalwait, Chief Public Defender in the judicial circuit.
A funeral service will be held at Stump Funeral Home & Cremation, Inc., Arnoldsburg, WV on Saturday, January 13, 2018 at 1:00 p.m. with Rev. Rick Metheney officiating followed by Masonic Funeral Grand Honors at the Mt. Zion UMC Cemetery. Visitation will be held at the funeral home on Friday, January 12, 2018 from 6:00-8:00 p.m.