Stanley Hoskins, Jr, 54, who fired upon two police officers in the remote area of Cicerone, Roane County, could spend more than 20 years in prison.

He was sentenced in Roane County Circuit Court by Judge Anita Ashley.

ROANE SHOOTER OF POLICE OFFICERS CHARGED WITH ATTEMPTED MURDER - Hoskins Facing Additional Charges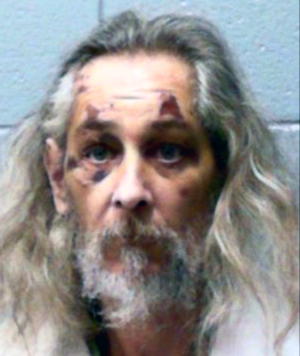 Stanley Gordon Hoskins
1-3-2018 - A Roane County man, Stanley Gordon Hoskins, 52, is incarcerated following a hospital stay, with bond posted at $750,000.
Hoskins fired his gun at a Roane County state policeman and a sheriff's deputy who were responding to a suicidal or domestic call in a remote area near Cicerone.
Hoskins has now been charged with attempted murder, domestic assault and battery, and malicious assault.
The officers escaped serious injury in the exchange of gun fire.
ROANE STATE TROOPER, ROANE DEPUTY SHOT NEAR CIRCERONE - Officers Responding To Suicide/Domestic Threat, Hoskins Arrested About Midnight
12/28/2017 8 AM - The Kanawha County Sheriff's Office officials said one person has been detained after a standoff in Roane County.
Authorities identified the shooter Wednesday as Stanley Gordon Hoskins Jr., 52.
Hoskins will be charged with two counts of attempted murder, among other charges.
Family members said Hoskins suffered from Post Traumatic Stress Syndrome. He is being treated at a Charleston hospital.
Trooper Zachary Hartley and Roane County Deputy Mike King received minor, non-life threatening injuries, according to a news release from West Virginia State Police. The officers were met with gunfire after they approached the front door of a residence near the Roane-Jackson-Calhoun line.
Trooper Hartley graduated the West Virginia State Police Acadamy in the 65th cadet class, and was assigned to the Spencer detachment. He is from the Ripley area and is a U.S. Army veteran.
First Sgt. O.S. Starsick with the West Virginia State Police said an officer took six shotgun pellets to the upper thigh, which drew blood but didn't penetrate. The deputy took a shotgun blast to the bottom of his pants leg, but wasn't struck by projectiles.
Starsick said officers thought Hoskins had fled the area, but a special response team member found him hiding underneath a house, leading to his arrest after midnight.
A robot was used to search the house.
Temperatures dropped to 8 degrees Wednesday night.
Multiple law enforcement agencies assisted with the situation.
12/27/2017 10 PM - State Police have identified the shooter of a WV State Policeman and a Roane County deputy. The man has been identified as 52-year-old Stanley Gordon Hoskins Jr.
Hoskins address is listed as Gandeeville, Roane County.
Last reports, authorities are in a stand-off with Hoskins in a remote area near Cicerone, where Roane, Kanawha and Jackson converge.
12/27/2017 8:30 PM - Community members are reporting that the officer shot in the Cicerone area of Roane County Wednesday night is Trooper Zachary W. Hartley of the Spencer detachment of the WVSP.
Trooper Hartley graduated the West Virginia State Police Acadamy in the 65th cadet class, and was assigned to the Spencer detachment. He is from the Ripley area and is a U.S. Army veteran.
The identity of Hartley as the shot trooper has yet to be confirmed, the officer suffering a gunshot to the leg.
Authorities are saying that a Roane County deputy was also injured. He is expected to be OK. Both the deputy and trooper were responding to the incident.
According to media at the scene, a woman called 9-1-1, thinking a man in the house had committed suicide, the incident reportedly linked to a domestic disturbance.
But when troopers responded and upon approach to the house, they were met with gun fire from the man. That's when an officer was shot in the leg and a deputy injured.
The woman was able to escape, and the man barricaded himself inside the house.
Troopers have the house surrounded Wednesday night along with a SWAT team, State Police, Roane and Kanawha sheriff's deputies.
A military helicopter is also at the scene.
12/27/2017 8 PM - State Police from multiple counties and the Roane County Sheriffs Department are responding to the shooting of a State Police trooper on Red Oak Run in the Cicerone area, a remote section of Roane County.
Red Oak Run is located when Roane, Jackson and Kanawha County meet.
The officer, not yet identified, was responding to an alleged suicide attempt, Wednesday evening about 7 p.m.
Captain Reggie Patterson said a trooper was shot in the leg and was able to get cover and call for help.
Reports indicated the injury was non-life threatening.
Sources from Roane said gunfire has been exchanged between the individual and authorities.
Patterson said when state troopers got there, someone in the home began to shoot at the troopers.
Patterson said the shooter is still barricaded in the home, with a SWAT team responding.
Emergency responders from Roane and Kanawha County dispatched to scene.