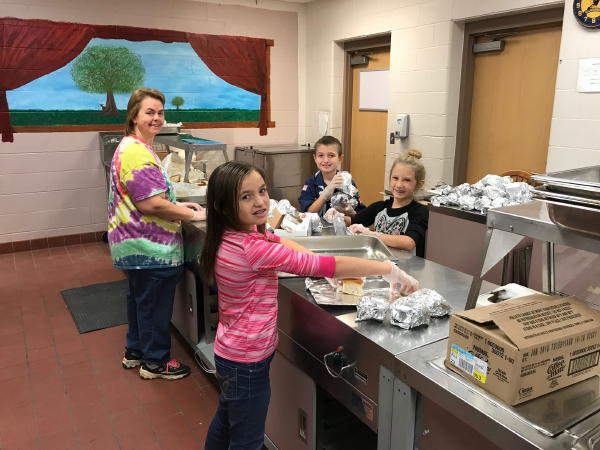 Early morning preparation of desserts and bread for the day
Thanks primarily to the Calhoun County School System, the Arnoldsburg Cub and Boy Scout troops and many community volunteers, CCCOA's "Operation Happy Thanksgiving" was a heartwarming success, with over 270 meals delivered or carried out and many, many more served and enjoyed in the Calhoun Middle High School dining room.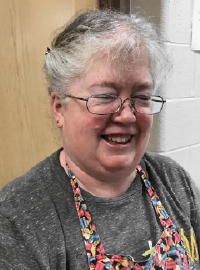 The Calhoun County School System graciously provided all of the food and supplies, a cook, thanks to Master Chef, Crissy Jones (pictured left) a janitor, food services coordinator Chris Melonas, the kitchen and dining room, and even the personal volunteer help of its Superintendent, Kelli Whytsell.
The Arnoldsburg Cub Scout and Boy Scout Troops worked long hours assembling utensil and condiment packets, wrapping bread rolls, and packaging those items along with a dessert in bags to go along with hot meals for carry out or delivery . . . and then worked to continuously clean the kitchen, dining and even outside areas.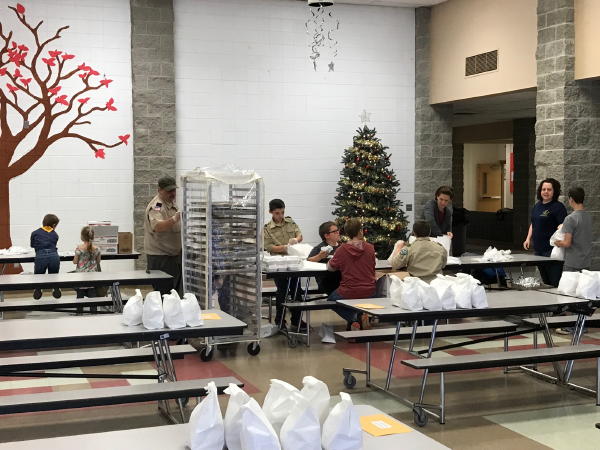 Scouts and their leaders prepare bags for delivery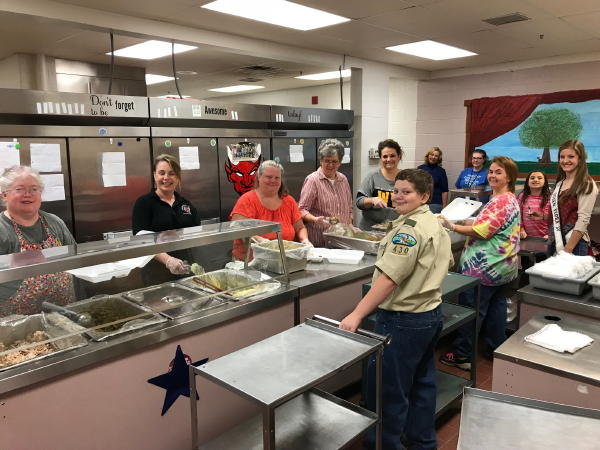 Hot meal assembly and distribution lines keeping steady pace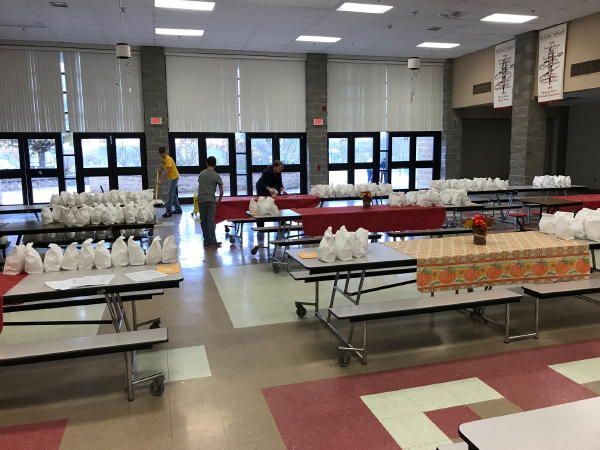 Bags being arranged by delivery route, awaiting accompanying hot meal boxes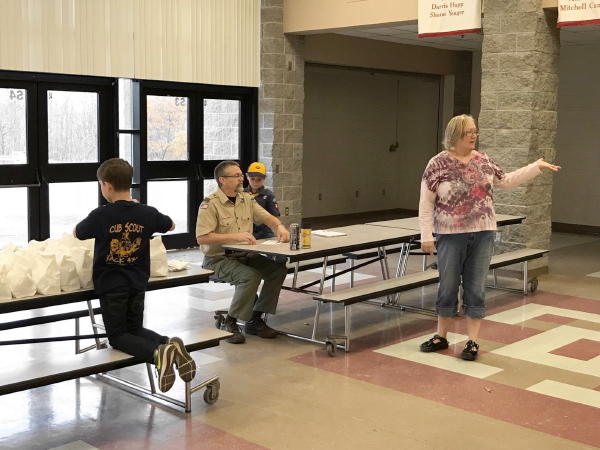 Scouting community service was proudly evident throughout the day
Community volunteers worked in the kitchen, in the dining area, and on the roads of the County to deliver meals to every corner of Calhoun. And, Calhoun Banks graciously allowed employees to participate and provided a car for two of the delivery routes.
CCCOA is grateful for everyone's generous participation and for seamlessly adapting to a different day and place for this year's effort, proving yet again that Calhoun County is blessed with wonderful organizations and individuals always willing to step up to help enrich the lives of others.
Individual acknowledgments include: Arnoldsburg Cub Scout and Boy Scout Troop leaders, scouts, and scout family-members: Dan Sillaman, Leui Sillaman, James Sillaman, Ryan Sillaman, Abbigale Sillaman, Chloe Sillaman, Emily Sillaman, Carrie McKown (also CCCOA nurse), Alex McKown, Kathy Dickey, Nick Dickey, Alicia Swearingen, Jaden Swearingen, Kade Swearingen, Orion Swearingen, Charles Thomas, Bryan Thomas and Travis Thomas.
Community volunteers include: May Sturms, Kay Richards, Barb Bush, Linda Buchanan, Gary Buchanan, Gail Krugman, Sandra Ballangee, Willadene Poling, Duane Poling, Grace Moore, Tim Moore, Bert Wilson, Joe Eagle, Selina Rush, Samantha Wilson, Michael Hicks, Cheryl Basnett, Stacy Starcher, Bailey Cain, Sharon Laughlin, Brenda Wolfe, Karen Kirby and CCCOA staffmembers Maricia Mlynek, Carrie McKown, R.N., Sierra Snider, Cyndi Cottrell, Brenda Sisson, Samantha Poling, and Rick Poling.